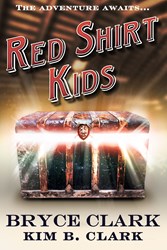 I devoured their adventure in one sitting!
Los Angeles, CA (PRWEB) August 22, 2013
Do you ever wonder what business leaders tell their kids? What words of wisdom do they impart? What life lessons do they share? Does the dean of the Harvard Business School, for example, recite maxims, explain formulas, or whisper the secrets of financial freedom to his eager audience? As it turns out, the conversation is much more creative.
Kim Clark, dean of the Harvard Business School from 1995-2005, began his storytelling career when he was a young father. He was in charge of the bedtime routine every night, which included story time, so he began making up stories. His children were avid listeners, and they demanded new material every night. So, his stories gradually developed into a series of adventures, and Red Shirt Kids was born. But, as Kim explains, "As long as I was going to tell all of these stories, I decided to try to teach the children important principles. I tried to weave into the stories principles like being a good friend, helping other people, being a good brother or sister, telling the truth, obeying the law, and having courage, patience, and kindness."
These lessons stuck, and his son Bryce, a screenwriter and novelist, adapted the story as a novel for children 8-12. Carefully disguised within the pages of Red Shirt Kids are the life lessons that Kim imparted to him. "My goal was always to tell the most entertaining story possible, but I also wanted to honor the lessons my father passed on in his telling of these stories. I knew that in a work of fiction you can't just tell kids bullying is bad, be a good friend, or develop your talents, so I created a story where those ideas would be important in the kids 'winning' in the end."
Readers and reviewers are raving about Red Shirt Kids. Francine Brokaw, entertainment editor at LA Family Magazine, stated, "This well-written and intriguing story stirs the imagination and delights readers. The book introduces some sixth-grade superheroes who will no doubt return to solve future mysteries." Hannah Clark, author of Cobbogoth, stated, "I devoured their adventure in one sitting! Please tell me there's a sequel!" And Tagg Romney, son of Mitt Romney, said, "I'll be telling my kids these stories at bedtime!"
This action-adventure novel, released September 24, is the first in an exciting new series for children, ages 8-12, about Mike and Amy Smith—a brother and sister who move up the east coast into a creepy old mansion and find more than a little trouble in their new town. While searching their dusty attic, Mike and Amy find red shirts in an old wooden trunk with a magical lock. Together with a new friend, Sam, they discover that wearing the red shirts gives them unique mystical powers, which they then use to search for two kids that had gone missing earlier that summer. Along the way, they join forces against a powerful adversary with an ancient secret and mystical powers of his own. With just the right amount of suspense, action, and magic, Red Shirt Kids is destined to become a classic. For more information about Bryce Clark and Red Shirt Kids, please visit http://brycebclark.com.
About the authors
Bryce Clark wrote and directed the independent dramatic comedy, Beauty and the Least. He has also written for the children's show, Yo Gabba Gabba, and is a partner in the production company, StoryLand Entertainment. Bryce and his wife live in the Salt Lake area with their five children.
Kim B. Clark is the former dean of Harvard Business School and is currently the president of Brigham Young University-Idaho. He and his wife live in Rexburg, Idaho.
If you would like more information about Red Shirt Kids, or to schedule an interview with Bryce Clark, please contact his publicist, Kathy Osmond, at kathy.osmond(at)sourcedmediabooks(dot)com or 801.899.5490.