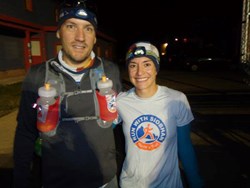 Leadville, CO (PRWEB) August 22, 2013
Participating in an endurance running event that spanned two days across rugged Rocky Mountain terrain, Siobhan and Dan Pritchard raised over $35,000 for Research Down Syndrome, a foundation that funds medical research directed towards understanding and treating intellectual disabilities in Down syndrome.
On August 17-18, the couple ran in the Leadville Trail 100-Mile Run. Over 900 runners competed in this legendary "Race Across the Sky", 100 miles of extreme terrain, with elevations ranging from 9,200 to 12,600 feet. Siobhan was one of only approximately half the entrants who finished under the required 30 hours. Dan succeeded in reaching several time checkpoints, and completed 71 miles. "I will be back next year, and I will finish", Dan said.
The Pritchards are parents to one-year old James, who has Down syndrome. Since his birth, the couple has strongly advocated for increased support of research that is directed toward developing treatments that will improve learning and communication in individuals with Down syndrome, and also address the increased incidence of Alzheimer's disease.
Prior to the race, Siobhan reflected, "If there is anything I can do to help James succeed, then I want to push hard to give him these tools…open every door. I was thinking, what greater way to raise money and awareness of Down syndrome research than to run 100 miles. Sure, to some people this is crazy, but to Dan and me, this is just a small thing to what James and other persons with Down syndrome experience."
After the race, Siobhan shared these thoughts, "Dan and I are so grateful for all the support, from our crew team and pacers, as well as from the Down syndrome community, the solidarity teams and all their donors. I ran the race with my heart on my sleeve, putting it all out there, knowing this was my one shot to make a statement for Down syndrome research. It was two days of perseverance and digging deep. Thinking, 'It never always gets worse', as I pushed through some tough moments. All these things are what James has taught me".
Supporting this fundraising effort were RDS Runners' teams and other backers nationwide. RDS Runners is a national program of runners and racing events supporting Down syndrome research. One fundraiser in solidarity with Siobhan and Dan's effort was "Lemonade Stands for RDS" in which young Kaydence and Jaycee raised over one thousand dollars selling virtual glasses of lemonade to support their good friend James. RDS President Dr. Robert Schoen said, "Congratulations to Siobhan and Dan on this remarkable achievement. We are grateful to them for their ongoing advocacy of Down syndrome cognitive research." In addition, he thanked all the Run with Siobhan teams and donors who joined in solidarity with this event. Read more here: http://www.crowdrise.com/RunWithSiobhan.
The RDS Runners program participates in a host of running events throughout the year. The program is an official charity partner of multiple runs, including this fall's Marine Corps, Air Force and New York City marathons. In addition, RDS Runners are raising money at RunDisney, along with marathon and an Ironman event in the Midwest this fall. Interested runners may contact rdsrunners(at)researchds(dot)org for more information.
About Research Down Syndrome
Research Down Syndrome is among the leading sources of private funding for Down syndrome related cognitive research. RDS supports and funds Down syndrome cognitive research conducted at research institutions that are studying the basis of the intellectual impairments associated with Down syndrome, including Alzheimer's disease. Research Down Syndrome is a legal corporate entity, and is a 501(c) (3) nonprofit organization designated by the Internal Revenue Code. For more information, go to http://www.researchds.org, or contact RDS: info(at)researchds(dot)org or 847.710.2251.
Robert Schoen, Ph.D.
847.710.2251