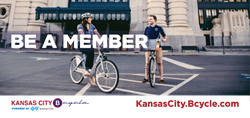 "We listened to our members and believe this change will make using b-cycle an even better experience for everyone," says Executive Director Eric Rogers.
Kansas City, MO (PRWEB) August 22, 2013
Kansas City B-cycle Annual Memberships have become even more valuable. Effective Aug. 22, 2013, Annual Members will now get the first full hour of each ride before usage fees start accruing, giving members even more time to arrive at their destinations or linger over lunch.
"Kansas City B-cycle truly values the opinions of our members, and this was a common suggestion we received," says Executive Director Eric Rogers. "We listened to our members and believe this change will make using b-cycle an even better experience for everyone."
The change only applies to Annual Members (24 Hour, 7 Day, and 30 Day memberships still accrue usage fees after the first 30 minutes of each ride.) Take advantage of this new perk by joining today.
Because of these changes, annual members will have also more time to complete a set of tours that Kansas City B-cycle has put together on a set of tour cards. The series includes eight cards, each with a map of destinations on a theme. The B-Energized/Coffee Tour card, for instance, shows the six coffee shops in the B-cycle area. Other cards include B-Outside/Parks Tour, B-Saucy/BBQ Tour, B-Vintage/Antique Tour, B-Pampered/Spa Tour, B-Cultured/Art Tour, B-Satiated/Veggie Tour, and B-Entertained/Theatre Tour. Do them each in a day or keep them around as a guide.
Pick up these cards at area restaurants, coffee shops and stores. You can also download all eight online.
For those who don't feel confident enough in their city cycling skills, BikeWalkKC is hosting a three session, nine hour confident city cycling and traffic skills course. This intensive course teaches safety knowledge and bike handling skills, culminating with a bike ride in a safe and supporting environment. Participants will learn new concepts for navigating streets and build practical bike handling skills necessary for city riding. This class is great for bike commuters, ride leaders, transportation professionals, and anyone who wants to lead adult or child bike training.
Learn more about Kansas City B-cycle and BikeWalkKC online.
About Kansas City B-cycle
Kansas City B-Cycle powered by Blue KC is a partnership between BikeWalkKC and Blue Cross and Blue Shield of Kansas City. It is owned and operated by Bike Share KC, a 501(c)3 Missouri nonprofit corporation. We are the country's only advocate-owned bike share system.
About BikeWalkKC
BikeWalkKC is the unified voice for active living, promoting a healthy, safe and accessible outdoor experience for all in a vibrant, engaged community. BikeWalkKC is a member-supported organization that works to make Greater Kansas City a safer and more accessible place to walk, bicycle, live, work, and play.