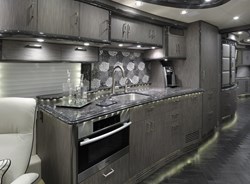 It sounds like a cliché, but we honestly do build them one at a time. So every coach is not only one of a kind, but superior to the one that came before it.
North Chicago, IL and Stuart, FL (PRWEB) August 22, 2013
At first glance, the arrival of Liberty Coach No. 767 doesn't seem like really big news. Never mind that the company's latest "Elegant Lady" – a double slide beauty built on a 2013 Prevost chassis powered by a 500 HP Volvo D13 gasoline engine with a 6-speed Allison transmission – is arguably the most technologically advanced, luxury-packed, and out-and-out gorgeous motor home ever built.
After all, that's what Liberty Coach does and has been doing since they built the first Prevost bus conversion in 1979. "Since my folks started the company, the goal has always been to build the best coach humanly possible," says Liberty Vice President and co-owner Frank Konigseder, Jr. "It sounds like a cliché, but we honestly do build them one at a time. So every coach is not only one of a kind, but superior to the one that came before it."
A look at the history of high-end coach conversions bears that out. Virtually every significant technological "first," from hot water heating and automatic leveling to Crestron remote control and Moritz Octoplex systems, started with Liberty Coach.
That said, it appears as if the company has truly outdone itself with No. 767.
For starters, there's the floor plan. Dubbed "The Keswick" by interior design director Kim Konigseder, the layout takes an entirely new approach to a 1½ bath plan, with an enormous rear bath and shower and Liberty's trademark dual entry half bath separated by a curving hall boasting a pair of large radiused closets.
And the plan is exquisitely complemented by interior finishing that is, in a word, breathtaking. The blend of dark grey veneers and moldings with light colored leathers and a black oak parquet floor creates an aura that is at once coolly luxurious and comfortably down-to-earth – "a work of art," says Frank.
Of course, the coach is loaded with the latest and greatest in high-tech features: a Crestron remote control system integrated with iPad Mini's, state-of-the-art HDMI audio/video architecture featuring Marantz and KEF components, top-of-the-line appliances from Sub-Zero, Miele, and Bosch, and much more. And it's capped off by one of Dean Loucks's most stunning custom paint designs yet: a masterpiece of black, white, tans, reds, and golds with ghosting and fade effects.
The Keswick is the only new coach in Liberty's current new Prevost motor coach inventory. And with prospective buyers already expressing interest, Frank knows it's just a matter of time before No. 767 rolls out of the dealership for good. In the meantime, he's enjoying the chance to road test it personally.
"We drove it to the Spearfish rally in early August, and we'll take it to Moab (Utah) next month," he says. "This is our chance to mix business with pleasure. And we're going to make the most of every mile."
With locations in Stuart, FL and North Chicago, IL, Liberty Coach has been providing legendary leadership in the luxury motor coach industry for over 40 years. For more information about Liberty's custom Prevost motor coaches, please visit http://www.libertycoach.com or call 800-554-9877.