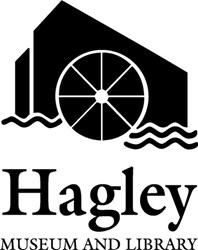 Wilmington, Del (PRWEB) August 22, 2013
What do color, marbles, and sneakers have in common? Hagley Museum and Library announces three new ways for visitors to discover history, science, and innovation along the Brandywine this fall: Hagley Guided Walking Tours, Hagley Science Saturdays, and Hagley Lectures.
"Each of these three fall programs provide a new lens from which to explore Hagley and to serve the distinct interests of Hagley's visitors, which range from elementary school children to senior cultural tourists," states Joan Hoge-North, Hagley's director of museum services.
About Hagley's Guided Walking Tours
"Rocks and Roll Mills" and "Sights, Sounds, and Smells" are the newly created, behind-the-scenes tours debuting this fall. "Rocks and Roll Mills" explores the geology of the Brandywine Valley and its impact on the milling industry. "Sights, Sounds, and Smells" provides an in-depth look at the black powder making process used by DuPont when the mills were in operation. Hagley's Guided Walking Tours are offered monthly starting September 21, 2013, and are included in cost of admission. Reservations are requested at 658-2400, ext 261.
About Hagley Science Saturdays
On the fourth Saturday of every month starting on September 28, 2013, Hagley educators will present a new project to challenge families. From maximizing the number of marbles in a tinfoil boat to testing flight distances with different paper airplane designs, Science Saturdays offer families and groups the perfect way to unplug and come together on real, hands-on projects. Science Saturday activities are included with general admission and are free for Hagley members.
About Hagley Lectures
Starting September 12, 2013, Hagley will offer a new series of Thursday evening lectures free to the public. On September 12, find out how the fashion industry selects next season's colors. Dr. Regina Blaszczyk, University of Leeds, will talk about the relationship between color and commerce in American industry.
On November 7, Dr. David Farber, Temple University, traces the rags-to-riches tale of the man who built the Empire State building, made millions for DuPont and General Motors, and helped shape modern capitalism in "John J. Raskob: Pierre S. du Pont's Right-Hand Man and Capitalist Extraordinaire." Both authors used sources from Hagley's globally recognized library collections.
The lectures begin at 7 p.m., and are held in the Soda House. Reservations are requested: 302-658-2400, ext. 243.
ABOUT HAGLEY MUSEUM AND LIBRARY
At Hagley, we invite people of all ages to investigate and experience the unfolding history of American business, technology, and innovation, and its impact on the world, from our home at the historic DuPont powder yards on the banks of the Brandywine. For more information about Hagley's special events and programs, visit Hagley's website or follow Hagley on Facebook and Twitter.
Hagley is located on Route 141 in Wilmington, Delaware. Admission to the entire 235-acre museum is $14 for adults, $10 for students and senior citizens, $5 for children six to fourteen, and free for children five and under. For visitor information, call (302) 658-2400 weekdays or visit http://www.hagley.org.
# # #