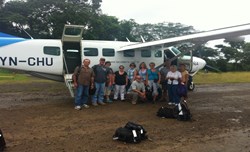 (PRWEB UK) 23 August 2013
After a difficult journey by plane and getting their 4x4's stuck in the mud, a tough team of 10 including John and Ardys Jones from Linkenheimer LLP, CPA's & Advisors and Patsy Coleman (Mother of Jennifer Watson, Alliott Group member from the Chicago Law firm, Masuda Funai) and further participants from St Mark Lutheran in Santa Rosa, California plus 5 Peace Corp volunteers, offered their time and skills to assist the people of Buena Vista, Nicaragua.
Over the 3 days the team examined 837 individuals and distributed over 800 pairs of reading, distance and sunglasses for free. As expected, many of the patients served, were in significant need of vision improvement. Many of the young people were very nearsighted and had difficulty recognising the top line of the eye chart.
Additionally all were screened for future cataract and pterigium surgeries, finding at least 20 potential surgery candidates that will be seen the nearby Sabalos Surgery Center.
Furthermore the team handed out over 400 Spanish, New Testament Bibles and 200 plus Spanish New Testaments written for teens and many Spanish Bible stories and toys.