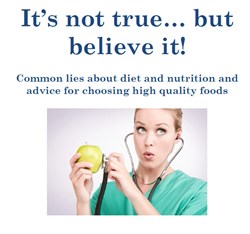 Every day we are all exposed to a lot of contradictory dietary advice, most of which has no scientific basis at all
Gothenburg (Sweden) (PRWEB) August 25, 2013
Gianluca Tognon, researcher at Sahlgrenska Academy (Sweden) and administrator of the blog "The food and nutrition forum" as well as the homonymous Linkedin group including more than 800 members, has uploaded an e-book on his website. In it, he explains common lies about diet and nutrition.
Every day we are all exposed to a lot of contradictory dietary advice, most of which has no scientific basis at all. Particularly, many fad diets are based on absurd recommendations, such as extreme dietary restriction or increase of carbohydrates, protein, or fat.
This e-book is the answer to fad diets and unscrupulous nutritionists, and it contains many nutritional recommendations for a realistic, healthy diet that everybody can follow. The e-book also contains a list of the main food groups as well as the weekly and daily portions that the author recommends for a balanced diet.
To know more about Dr Tognon and his ideas, visit http://www.gianlucatognon.com