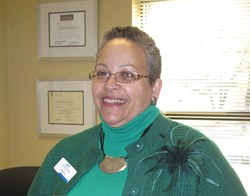 Suitland, MD (PRWEB) August 22, 2013
The Joint Base McGuire-Dix-Lakehurst (MDL) Commanders recently selected Andrews Federal Credit Union's Maree Duncker, Joint Base MDL Branch Manager, to participate in its Honorary Commanders program. Duncker was formally inducted into the program at the Joint Base Honorary Commanders' Induction Ceremony on August 20.
The Honorary Commanders Program facilitates communication between the surrounding communities and military personnel by showcasing joint base capabilities, future leaders, and the caliber of men and women serving at Joint Base MDL. Honorary Commanders are selected based on their record of service to the local community and tradition of excellence in their profession.
"I consider it an honor to serve as an Honorary Commander here on Joint Base MDL," said Duncker. "I am also very humbled at being given this chance to interact closely with the military."
As an Honorary Commander, Duncker will be teamed with a commander for a one-year term and given base access throughout her tenure. Additionally, she will have an opportunity to participate in unique military operations and witness time-honored traditions typically reserved for those in military uniform.
About Andrews Federal Credit Union
Andrews Federal Credit Union was founded in 1948 to serve the needs of military and civilian personnel by providing a vast array of financial products and services. With over $900 million in assets, Andrews Federal has grown to serve more than 100,000 members in the District of Columbia, Joint Base Andrews (MD), Joint Base McGuire-Dix-Lakehurst (NJ), and military installations in central Germany, Belgium, and the Netherlands. In addition, the Credit Union serves as a financial partner with many select employee groups in Maryland, the District of Columbia, and New Jersey.
To learn more about Andrews Federal Credit Union, please visit http://www.andrewsfcu.org.