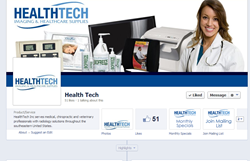 Wilmington, NC (PRWEB) August 22, 2013
Leading online retailer of chiropractic supplies, HealthTech, announced today that it is giving away a Kindle Fire through a contest on its Facebook page. To enter to win a Kindle Fire, potential contestants must like the HealthTech Facebook page. With one simple step, contestants are automatically entered to win a Kindle Fire valued at $159. The contest is open while supplies last.
HealthTech is new to social media and hoping to use the forums to become more in tune with the wants and needs of its customers. In addition to Facebook, HealthTech now has an active presence on LinkedIn and Twitter thus helping clients and other chiropractors connect through the use of social media. Visit the HealthTech pages to stay up to date on discounts and company news.
In addition to their increased online presence, HealthTech now offers special financing for chiropractors in need of new chiropractic equipment for their offices. HealthTech's financing options feature rates as low as 3.95 percent.
About HealthTech Inc.
Health Tech Inc. has been at the forefront of chiropractic supplies for several years. This industry leader specializes in the sale of chiropractic equipment, chiropractic supplies, radiology supplies and digital X-Ray systems. HealthTech carries many notable brands including: Hill, Omni, Eurotech, Thomas, Core Products, Biofreeze, SpiderTech, Lloyd Tables and Pivotal Health. Healthtech is dedicated to offering the lowest prices every day for all chiropractic supply needs. To learn more about HealthTech please and view a full list of products visit http://www.healthtechnc.com/.