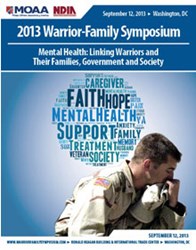 Alexandria, VA (PRWEB) August 22, 2013
The 2013 Warrior-Family Symposium (WFS) will be held on Thursday, Sept. 12, at the Ronald Reagan Building and International Trade Center in Washington, D.C. The event, Mental Health: Linking Warriors and Their Families, Government and Society, is scheduled for 7:30 a.m. to 2:30 p.m., and co-hosted by the Military Officers Association of America (MOAA) and the National Defense Industrial Association (NDIA). USAA is the executive sponsor of the event.
The WFS will provide a forum for governmental and non-governmental organizations to explore opportunities to improve the quality of life of wounded warriors, their caregivers and their families. This year will focus specifically on mental health issues.
Registration is free to all active duty, Reserve or Guard members of the military and their spouses.
The one-day program will feature many influential and memorable speakers, including:

Robert L. Jesse, M.D., Ph.D., Principal Deputy Under Secretary for Health, Department of Veterans Affairs
General John F. Campbell, USA, Vice Chief of Staff, Army
Brian Delate, Vietnam Veteran; Actor, Shawshank Redemption and The Truman Show; playwright, Memorial Day, and filmmaker, Soldier's Heart
Chairman Bernie Sanders, (I-Vt.) Senate Committee on Veterans Affairs
View the complete event agenda with a full speaker list and to register, please visit http://www.warriorfamilysymposium.com.
Media Note: All media attendees interested in covering the event can register by emailing pr(at)moaa(dot)org; include your name, outlet, email, and phone number. There will be a media check-in at the event.
Speakers, panelists, and leaders of MOAA and NDIA will be available for interviews.
Follow conference updates on Twitter - #2013WFS
About MOAA:
Military Officers Association of America (MOAA) is the nation's largest officers association with more than 380,000 members from every branch of service, including active duty, retired, National Guard, Reserve, and former officers and their families and survivors. MOAA is a nonprofit and politically nonpartisan organization and an influential force in promoting a strong national defense. MOAA represents the interests of service members and their families in every stage of their lives and careers, and for those who are not eligible to join MOAA, Voices for America's Troops is a nonprofit MOAA affiliate that supports a strong national defense. For more information visit http://www.moaa.org or http://www.voicesfortroops.org.
About NDIA:
The National Defense Industrial Association (NDIA) is America's leading Defense Industry association promoting national security. NDIA provides a legal and ethical forum for the exchange of information between Industry and Government on National Security issues. NDIA members foster the development of the most innovative and superior equipment, training and support for warfighters and first responders through our divisions, local chapters, affiliated associations and events.