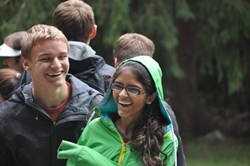 It makes this campus of 40,000-plus seem so much smaller.
University Park, PA (PRWEB) August 22, 2013
Alanna Kaiser had never been backpacking before she joined a group of other incoming first-year Penn State students on a six-day wilderness orientation program in Rothrock State Forest this month.
None of the students in the group knew each other before the trip, said the 18-year-old from Lancaster, Pa. "The first day nobody talks to each other," she said. "At the end, we were all best friends."
Some 240 incoming first-year Penn State students from campuses across the state are taking part in the ORION Wilderness Experience, a program intended to ease the transition to college. The students spend five days hiking and camping in Rothrock, Moshannon, or Bald Eagle state forests, one day either canoeing or doing a high ropes adventure, and finish up with a cookout at Shaver's Creek Environmental Center, Penn State's nature center and field lab.
Program director Jen Bean said the goal of the program, which is in its 18th summer, is to remove the students from everyday distractions such as cellphones and social media so they can make new friends and find out more about college life from the upperclassmen who lead the trips.
"We try to get them to expand their horizons and make new friends," she said. "It makes this campus of 40,000-plus seem so much smaller."
Students earn two college credits for taking part in the program, which also requires them to write a reaction paper and do community service. Two related programs run by Shaver's Creek send first-year students to inner-city Philadelphia and on a West Coast wilderness excursion.
Kaiser, who will be studying community, environment, and development in the College of Agricultural Sciences and is also a Schreyer Honors College student, said the program gave her new confidence about entering college. "If you can conquer the wilderness, what's an 8 a.m. class?" she said. "Now I've got a group of good friends that I know will be waiting for me. I'm just ready now."