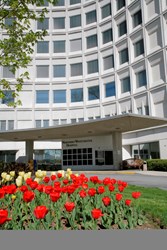 "Sustaining our Planetree Designation validates that we are meeting our goal and that we have the programs, processes and technology in place to provide a truly patient-centered experience", commented Joel Seligman, President and CEO of NWH.
Mount Kisco, New York (PRWEB) August 27, 2013
Northern Westchester Hospital (NWH) has been formally designated by Planetree, Inc. as a "Planetree Designated® Patient-Centered Hospital" for the third time. This designation recognizes NWH's achievement and innovation in the delivery of patient-centered care, defined as an approach to healthcare in which providers proudly partner with patients and families to identify and satisfy the full range of patient needs and preferences.
"Providing the highest quality, patient centered care is the primary focus of our staff and physicians. Sustaining our Planetree Designation validates that we are meeting our goal and that we have the programs, processes and technology in place to provide a truly patient-centered experience", commented Joel Seligman, President and CEO of Northern Westchester Hospital.
Six years ago, NWH was among the first hospitals nationwide to achieve designation. This distinction goes beyond NWH being a premiere hospital in Westchester County. This re-designation recognizes NWH's sustained excellence in patient-centered care. Today, NWH remains one of only two hospitals in the state of New York and one of only 24 hospitals worldwide to receive the Patient-Centered Hospital Designation since the program's launch in 2007. Northern Westchester Hospital was further honored by receiving Planetree designation with Distinction in 2011. As one of several hospitals in Westchester NY, NWH continues to stand out and be the only hospital that is both Designated with Distinction by the Planetree organization and Magnet Recognized by the American Nurse Credentialing Center.
"The Planetree Designation is the only award that recognizes excellence in person-centeredness across the continuum of care," said Susan Frampton, President of Planetree, Inc., a not-for-profit organization that has been at the forefront of the movement to transform healthcare from the perspective of the patient for more than 30 years. "The designation signals to healthcare consumers that Northern Westchester Hospital is a hospital where providers partner with patients and families, and where patient comfort, dignity, empowerment and well-being are prioritized with providing top-quality clinical care."
The criteria that a hospital must satisfy to achieve designation reflects what patients, family members and healthcare professionals in hundreds of focus groups held across the country say matters most to them during a healthcare experience. This qualitative data aligns with the growing evidence-base for patient-centered care, and establishes the Planetree Designation as a concrete framework for defining and measuring excellence in patient-centeredness.
More than 60 specific criteria address components of a patient-centered healthcare experience, including patient-provider interactions, access to information, family involvement, the physical environment, food and nutrition, spirituality, arts and entertainment, and integrative therapies. In addition, the criteria focus on how the hospital is supporting its staff, opportunities for staff, patients and families to have a voice in the way care is delivered, and the ways that the hospital is reaching beyond its walls to care for its community.
To become a Planetree Designated® Patient-Centered Hospital, Northern Westchester Hospital had to demonstrate that it has successfully implemented programs that meet the spirit and intent of the designation criteria. As part of the re-designation process — which included a site visit by representatives from Planetree — NWH was asked to demonstrate that specific patient-centered practices and policies have been sustained over time, including: non-restrictive visiting hours; an open medical chart policy; widespread staff involvement in the implementation of patient-centered care; and, incorporation of the patient and family perspective in hospital planning efforts. In addition, the site visit team validated that the hospital's physical environment is a healing one engaging all of the human senses. The process also included a review of the hospital's performance on publicly reported patient satisfaction and quality of care measures.
"A strength of the designation program has been the integration of qualitative and quantitative measures," explained Frampton. "Acute care hospitals in the U.S. awarded designation are held accountable for exceeding quality benchmarks for both quality and patient satisfaction."
All designation determinations are made by an independent committee of national healthcare experts and CEOs from previously designated hospitals.
About Northern Westchester Hospital
Northern Westchester Hospital (NWH) provides high-quality, surgically sophisticated, patient-centered care in Westchester County through a unique combination of medical expertise, leading-edge technology, and a commitment to humanity. More than 700 highly-skilled physicians, state-of-the-art technology and professional caregivers are all in place at NWH in Mt. Kisco, NY to ensure that you and your family receive treatment in a caring, respectful and nurturing environment.
NWH has established extensive internal quality measurements that surpass the standards defined by the Centers for Medicare & Medicaid Services (CMS) and the Hospital Quality Alliance (HQA). Our New York surgeons uphold high-quality standards, helping to ensure that the treatment you receive at NWH is among the best in Westchester County and the nation. For a complete list of our services, please visit http://www.nwhc.net.
About Planetree
Founded in 1978 by a patient in San Francisco, today Planetree is an internationally recognized leader in the growing movement to transform the health care experience by considering health care facilities, processes and protocols from the perspective of the patient. In diverse healthcare settings throughout the United States, Canada, and Europe, Planetree is demonstrating that patient-centered care is not only an empowering philosophy, but a viable, vital, and cost-effective model of care. Today, the Planetree membership network is a global community of more than 250 acute care hospitals, continuing care facilities, outpatient clinics, and consumer health libraries. The Planetree model is implemented in a variety of settings, ranging from 25-bed critical access hospitals to large urban medical centers with more than 2,000 beds.