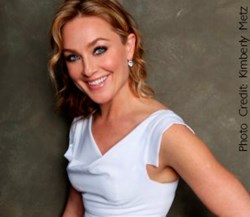 McLean, VA (PRWEB) August 22, 2013
RESOLVE: The National Infertility Association is pleased to announce actress and activist Elisabeth Rohm will serve as host and emcee of the Night of Hope Gala on November 6, 2013 at the Lighthouse at Chelsea Piers in New York City. During this annual event, the Hope Awards will be presented to individuals, organizations, companies and the media who have impacted the lives of the millions of women and men struggling with the disease of infertility.
The Night of Hope attracts more than 300 leaders and influencers in the family building community. Past Hope Award recipients include Bill and Giuliana Rancic, The View, Redbook Magazine, Self Magazine, Congressional Coalition on Adoption Institute and Church & Dwight, makers of First Response®.
"I'm honored that RESOLVE has asked me to host the Night of Hope," said Rohm. "I'm excited to come together as a community to create a higher awareness about fertility and I'm hopeful our efforts will create a more conscious future."
Elisabeth Rohm, best known for her roles as Serena on "Law & Order" and Kate on "Angel," is the author of "Baby Steps: Having the Child I Always Wanted (Just Not As I Expected)," released in April. The actress, 40, currently plays Taylor on The Client List, and will next star in David O. Russell's latest film, "American Hustle," to be released Christmas Day.
"RESOLVE is very excited that Elisabeth Rohm will host the 2013 Night of Hope," said Barbara Collura, President/CEO of RESOLVE. "Not only is Elisabeth a public figure who has so eloquently shared her personal infertility story, she understands the need for more awareness and for more support for the infertility movement. We appreciate Elisabeth's support of The Night of Hope, one of our signature fundraising events that help us continue our mission of improving the lives of women and men living with infertility."
As the organization for the infertility community, RESOLVE established the Hope Awards to recognize professionals, companies, volunteers and the media who have demonstrated innovation and compassion to benefit people struggling with infertility.
For press information in regard to covering the Night of Hope event, contact Andy Schwarz at aschwarz(at)resolve(dot)org.
For more information on the Night of Hope, visit http://www.resolve.org/nightofhope.
RESOLVE gratefully acknowledges the 2013 Night of Hope Big Apple sponsors: EMD Serono, Ferring Pharmaceuticals, Merck, and Teva Women's Health.
-----------
About RESOLVE: The National Infertility Association: Established in 1974, RESOLVE: The National Infertility Association is a non-profit organization with the only established, nationwide network mandated to promote reproductive health and to ensure equal access to all family building options for men and women experiencing infertility or other reproductive disorders. One in eight U.S. couples of childbearing age is diagnosed with infertility. RESOLVE addresses this public health issue by providing community to these women and men, connecting them with others who can help, empowering them to find resolution and giving voice to their demands for access to all family building options. For more information, visit http://www.RESOLVE.org .