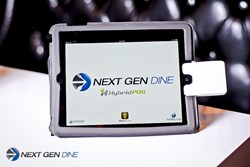 will generate an excellent customer experience
Las Vegas. Nevada (PRWEB) August 23, 2013
Next Gen Dine by Prelag Partners LLC now offers a loyalty program on the mobile point of sale to provide perks to restaurant customers. The perks that come with the customer loyalty program include a coupon database and a rewards program.
Fundamentally, the restaurant designates the coupons and rewards that will be granted to the loyal customers.
Customers will be able to take advantage of the coupons offered and redeem them online or in the establishment. The loyalty program is designed to reward those who visit the restaurant frequently. The more a customer dines at the establishment, the more rewards they will receive.
This new feature will generate an excellent customer experience and make customers want to dine at the establishment repeatedly.
Next Gen Dine software is the first of its kind in the tablet restaurant point of sale market and the future of restaurant dining. For more information, please contact Paul Roberts by phone at 1-877-342-2218 or email at paul(at)nextgendine(dot)com.
Next Gen Dine is a cloud mobile restaurant point of sale software designed for the iPad. Restaurant owners can now capitalize on the benefits of a full-featured POS system for a fraction of the cost of a traditional POS. Due to the mobility offered by the software, employees can take orders directly at the table, take credit card payments at the customer's side, and drastically improve restaurant operating efficiency. Orders placed are sent directly to the appropriate prep station, therefore decreasing order turnaround time. Next Gen Dine also offers restaurant owners customer loyalty, gift card, social media, and fine-grained marketing tools.