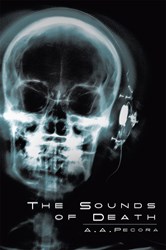 Detective Thomas deals with the mob, issues with his former partner, false alarms and real clues in his quest to prove his wife innocent
Atlantic City, NJ (PRWEB) August 23, 2013
Wrongly accused, Detective Cody Thomas races to save his wife and see that the true criminal is brought to justice.
In A. A. Pecora's book, The Sounds of Death, readers are taken to a world of suspense, crime and mystery. It is a story that keeps readers turning pages and pondering motives the whole way through. A fast-paced "whodunit" thriller, The Sounds of Death has readers following the determined detective and putting together the clues that will determine the fate of his wife.
"Detective Thomas deals with the mob, issues with his former partner, false alarms and real clues in his quest to prove his wife innocent," said Thomas. "Fighting his own personal battles, he must look past the emotion to find the facts and the real criminal."
The Sounds of Death
By A. A. Pecora
ISBN: 978-1466944268
Retail price: $24.66
Available at http://www.amazon.com and http://www.barnesandnoble.com.
About the Author
A. A. Pecora is a retired, previously a physician of 40 years and medical school professor of 28 years. A published medical author, Pecora currently lives near Atlantic City, New Jersey.
###