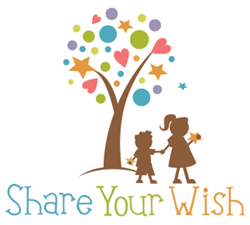 I like Share Your Wish because I got a Wii and I got to help sick children. - Jack, age 6
Tarrytown, NY (PRWEB) August 22, 2013
Eight months ago, ShareYourWish.com was launched to facilitate a more efficient gift exchange at children's parties, benefitting both the gift giver and receiver. This free service supports parents in teaching their children the virtues of generosity by empowering a child to support a charity on their special day.
Today, the business moves beyond its public Beta testing stage and fully opens its doors to families everywhere, having proven its technology to be stable and its demand from an influential and motivated customer base to be solid and fast-growing.
The business began in response to the excessive gift-giving common to children's birthday parties that many parents have found wasteful. Founders Buck and Rebecca Schleifer were concerned that the real importance of the day — the celebration — was getting overshadowed by the material aspect. Partnering with Eric Putter, a business technology consultant and prior startup founder, the team developed the service to replace a surplus of gifts with a charitable donation and to return the focus of the celebration to the child.
"It is never too early to start educating children about charity, and the values attached to helping others…by sharing their special day and birthday wishes with those who are in need or less fortunate," said Shara Sheinberg, SYW event host.
Charitable organizations certainly agree, and have found that Share Your Wish is an especially simple yet powerful fundraising tool. Simply by encouraging its members to use the service for their next child's birthday, a charity is able to engage young new supporters in its mission and to raise funds from the extended community of its members.
Parents are rapidly embracing this opportunity to connect with their kids and share their values. Together they discuss the how's and why's of sharing, select one or more charities to support, and create a custom Event Page. Guests are centrally managed, making it easy to send invites and track attendance. Proponents, such as Bethenny.com, have discovered that children receive more personalized gifts as well.
Busy moms, shepherding their kids to seemingly endless parties, especially appreciate the ease of making a contribution in lieu of buying a present, to save time, money, energy and the frustration of shopping. Guest contributions are automatically portioned between the chosen charity and a few meaningful gifts selected by the parent.
"I like Share Your Wish because I got a Wii and because I got to help sick children," said Jack, 6.
About Share Your Wish:
ShareYourWish is a social enterprise founded with an outspoken set of values and a mission to influence children towards a lifetime of social responsibility. The startup brings Families, Guests, and Charities together with a set of online tools that simultaneously reduce excessive gift-giving, support a healthier planet, promote social responsibility, and practice good values while rewarding kids with better personalized gifts.