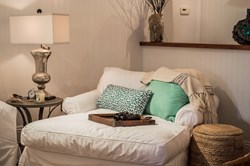 Vero Beach, FL (PRWEB) August 22, 2013
Our Boat House is proud to announce the opportunity to save 20% off of all of their furniture. This sale includes all outdoor, living room, dining room, and slipcovered furniture that is made in the U.S.A. and have ecological integrity infused into their materials and manufacturing. Customers can take advantage of these great savings and help create their own sea inspired escape.
Our Boat House's collection of Slipcovered Furniture is manufactured with woods that are sourced from domestic suppliers certified in responsible forest management; forests are replanted and are sustainable. Glues used are water-based and biodegradable. Metal springs are made from recycled metal. Seat cushions are wrapped in regenerated fibers, much of which was once plastic bottles. A more eco-friendly project starts with what goes into the fabric -- fiber made from recycled materials and earth-friendly ingredients.
Football season is almost here, as many friends and family members come together in honor of this national pastime, there will be an inevitable need for more comfortable seating. Sectional sofas often receive a bad rap, so we are here to put any sectional sofa anxieties to rest. Sectionals are not only extremely comfortable and family friendly but can also be just as stylish as any other sofa when done right. Our Boat House Sectionals Sofas are the perfect centerpiece for cozy coastal living.
The following are just a few of Our Boat House's other coastal home furnishing selections:
Our Boat House specializes in coastal home furnishings with a classic view and offers two collections of Slipcovered Furniture - The Oceanside and The Harborside - The collections include classic slipcovered sofas, sleepers, sectionals, chaises, chairs and ottomans that are down-filled and designed for extreme comfort and affordability. Relax with the Casual Coastal style of easy-care washable slipcovers in crisp cottons, natural linens, denim, hemp fabrics and more that are replaceable and made in the U.S.A.
Our Boat House's Unique Coastal Style Lighting Collection from around the world is high quality and designed to complement any coastal style home and provide a historic beach home feel. Iron and rope chandeliers, copper fox lights, rustic lanterns with a time worn patina, rustic candle pendants, handmade sea shell chandeliers, authentic brass passageway lights, driftwood lamps, coral shell lamps, authentic brass dock and piling lights, USCG lights, plus much more.
Our Boat House offers a collection of accent pieces, accessories, wall hangings, trunks and benches that will add interest, texture, rustic warmth and time-worn imperfection that will turn any space into the perfect coastal paradise. Authentic nautical accessories and treasures from ships from around the world. Hard to find genuine nautical, maritime decor, collectibles and furnishings-sea glass floats, ship's bells, portholes, diving helmets, bulkhead lights, brass binnacles, brass ship lights, passageway lights, fox lights, and so much more.
Make sure you follow us on Twitter.
Become a fan of OurBoatHouse.com on Facebook.