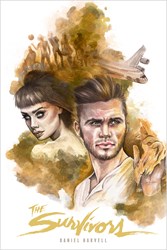 If you've been eager to get involved with our movement to ensure all Texans are treated equally, with dignity and respect, this is a great way to start.
Austin, Texas (PRWEB) August 27, 2013
Join seven ordinary strangers as they become seven extraordinary survivors in THE SURVIVORS (Amazon Digital Book, AISN: B00DGKSKOE) by Daniel Harvell. Proceeds from the sales of the book ($3.99 electronic version or $11.45 print version) will be donated to the equal rights political advocacy organization Equality Texas during a special two-week promotional event starting Tuesday, August 27 and ending Monday, September 9. THE SURVIVORS is a contemporary fantasy novel mixed with mystery, thriller and suspense elements.
"I love Austin, and I love Texas," said Harvell, "but let's be honest—we have a long way to go before all Texans are treated equally without discrimination based on sexual orientation or gender identity. In my novel, THE SURVIVORS, a group of amazing individuals come together to solve a murder mystery and stop a killer, none of which they could handle on their own. That's precisely how I see Equality Texas—they're tackling issues that are important to individuals whose voices would otherwise go unheard. This is why it's vital we support Equality Texas and similar organizations around the country—they are champions for the gay, lesbian, bisexual and transgender community, which really makes them champions for us all."
According to results of The Equality Poll 2013, Texas voters now support all eleven rights issues surveyed that pertain to lesbian, gay, bisexual and transgender citizens. There was a statistically significant increase in support among five of the eleven issues, with the largest increase being for allowing lesbians and gays to get married. By a margin of 47.9% to 47.5%, a very minor plurality, Texas voters now support the freedom to marry. This percentage represents an increase of 5.2% in support since September 2010.
While support for the freedom to marry has greatly increased, there are many political hurdles still to be faced. Equality Texas and its supporters are closer than ever to achieving equal rights for all in the state, which makes now the ideal time to act.
"If you've been eager to get involved with our movement to ensure all Texans are treated equally, with dignity and respect, this is a great way to start," said Chuck Smith, Executive Director of Equality Texas. "Not only are you helping out a great cause, but you get a great five-star book by an emerging Texas author—everyone wins! Equal rights for all are fundamental to our society and are long overdue. Everyone, regardless of sexual orientation or gender identity/expression, deserves to be treated fairly and equally."
About the Author:
Daniel Harvell is author of the contemporary fantasy novel THE SURVIVORS. The book was a recent #1 download for "superhero" fiction at Amazon.com and maintains a five-star rating. For more information about the book, upcoming novels, tips on writing fantasy and more, visit his website at http://DanielHarvell.com .
About THE SURVIVORS:
When seven people inexplicably walk away from a horrendous airplane crash, they find themselves changed in astonishing ways. The survivors are endowed with powers that defy explanation, though these "gifts" aren't necessarily blessings.
After the survivors' horrific experience, they return to their normal lives and adapt their newfound abilities to their likings—some to serve mankind; others to serve themselves. The results aren't always pretty, especially when one of them engages in a killing spree. With little more to go on than the psychic link that connects them, the survivors seek out one another to uncover the murderer and bring him or her to justice.
The fireman, the grandmother, the psychiatric patient, the basketball player, the mute girl, the rich blonde, and the man in the wheelchair—they all have secrets worth hiding. They can't trust each other. They can't even trust themselves.
About Equality Texas:
Equality Texas advocates and lobbies for the elimination of discrimination based on sexual orientation and gender identity/expression.
Equality Texas Foundation educates and engages the public about policies and their effect on Texans of all sexual orientations and gender identities/expressions.
Join us at http://EqualityTexas.org .