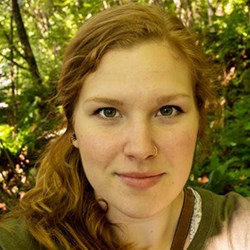 Bellingham, Washington (PRWEB) August 22, 2013
The Woods Coffee today announced Lacey Nagel as its new Creative Director. In this role, Lacey will manage all company marketing, promotion and social media efforts, as well as serve as the lead graphic designer.
"Lacey is a well-rounded, dynamic person with a variety of skills to offer," said Kelly Spiker, director of operations for Woods Coffee. "She is creative, organized, and she has a keen eye for detail. She's also fun to work with. She will be a great fit."
Lacey Nagel recently graduated from Western Washington University with a degree in Graphic Design. Originally from Montana, Lacey moved to Washington for college, where she has lived since.
"I'm passionate about making things that are both practical and beautiful," said Nagel. "I admire and enjoy what Woods does, and I'm excited to bring my passion and experience to the company's vision."
Previously, Nagel worked as a graphic designer for the Publicity Center of the Associated Students of Western Washington University. Prior to university, she worked as a graphic designer with Mid River Communications for two years, where she created advertisements, managed websites, and helped create newsletters for clients in eastern and central Montana. Nagel also owns and runs her own bow tie business, Charles Street Bow Tie Company.
"We were looking for someone who not only understands our company history and brand, but who can carry our vision forward in a fresh, dynamic way," said Spiker. "We were very excited to find all of these attributes in Lacey, a Northwest gal and a WWU graduate."
The Woods Coffee currently has more than 150 employees across its 14 Whatcom County retail locations, bakery and offices, in Lynden.
For more information on The Woods Coffee, visit http://www.TheWoodsCoffee.com, check out the company's Facebook page, or call 360.933.1855.
About The Woods Coffee
The Woods Coffee was established in 2002 by the Herman family of Lynden, Washington. With a dream of starting a chain of coffee shops, the Herman family pooled their talents and resources to create their first Woods Coffee shop. Today, 11 years later, the company has a total of 14 locations in the Pacific Northwest; offers its own line of fresh, in-house baked goods and exclusive compost-a-cup brand of compostable cups. In addition, the company uses sustainable design and building practices, achieving LEED® certification where possible. For more information on The Woods Coffee, please visit http://www.TheWoodsCoffee.com or call 360.933.1855.