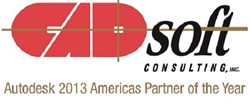 Tempe, AZ (PRWEB) August 23, 2013
CADsoft Consulting Inc., a premier provider of technical design and engineering solutions, and Autodesk 2013 Americas Partner of the Year, is exhibiting at the annual Arizona AIA State Conference on August 22nd at the Sheraton Wild Horse Pass in Chandler, AZ. The theme for the 2013 conference is Creating Community focused on exploring the opportunity and need to create healthy, "walkable", sustainable, economically viable and more livable communities to energize Arizona cities and neighborhoods. From new sustainable city planning initiatives to incremental development that makes an immediate impact on our neighborhoods, the change in our communities is noticeable and welcome. To learn more about the conference visit the AIA Arizona website.
CADsoft Consulting will be on hand during the one day tradeshow to share and discuss how design technology and workflow processes enable architects to achieve design efficiencies as they design new communities and affect positive change.
About CADsoft Consulting
CADsoft Consulting's national team of consultants helps clients pursue innovative concepts for 3D digital design, Building Information Modeling (BIM), Project Lifecycle Management (PLM), Leadership in Energy and Environmental Design (LEED), and 3D design visualization. With over 23 years of industry, business, and technical expertise, CADsoft Consulting's unique services has been sought after by an impressive list of architectural firms, engineering companies, manufacturing, government agencies, and academic institutions. CADsoft Consulting is an Autodesk Gold Partner for architecture, engineering, construction, civil engineering, geospatial, utilities, and academic solutions. For more information, please visit our website: http://www.cadsoft-consult.com.
Autodesk is a registered trademarks or trademarks of Autodesk, Inc., and/or its subsidiaries and/or affiliates in the USA and/or other countries.