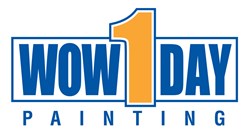 If one painter can paint 10 rooms in 10 days, why not have 10 painters paint the same 10 rooms in 1 day?
San Diego, CA (PRWEB) August 27, 2013
UCSD alumni, Sam Reisman worked at Qualcomm for over 7 years as a software engineer but like many Americans, he dreamt of becoming an entrepreneur and his own boss. Reisman achieved his goal this year, leaving behind his job at the tech giant to become part of a franchise that's quickly becoming North America's favourite painting company.
"I looked at several different business opportunities and eventually came across WOW 1 DAY Painting. I saw the potential in the brand as it's unlike any other concept in the painting industry and it's not a gimmick. When people see one day painting, some may assume that we rush to get it done, sacrificing quality along the way. I learned that it's just a question of man power, if one painter can paint 10 rooms in 10 days, why not have 10 painters paint the same 10 rooms in 1 day?" explains Reisman.
Judging from the several 5 star reviews WOW 1 DAY Painting San Diego has received on online review sites such as Yelp, San Diego homeowners are definitely fans of one day painting. "Several of my customers have told me horror stories of painting companies they've hired in the past. Many have been left high and dry by unprofessional, unreliable painters and that's the image of the industry that I'm trying to change," says Reisman. "Realtors are probably the biggest fans of our service. They love the fact that we can get in and out in a day because it leaves them more time to sell. Their clients are happy as well because a fresh paint job helps to increase the value of their home."
WOW 1 DAY Painting is founded the same entrepreneur behind 1-800-GOT-JUNK?, the world's largest junk removal company with 170 franchises worldwide. Brian Scudamore built his now $120 million junk removal business with just $700 and an old pick-up truck in 1989. By leveraging the massive success of 1-800-GOT-JUNK?, Scudamore has been able to grow WOW 1 DAY Painting tremendously in the last 18 months, opening 23 locations across North America including San Diego.
About WOW 1 DAY Painting
WOW 1 DAY Painting prides itself on providing the quality you expect in a timeline that's unexpected. We specialize in both commercial and residential paint jobs, offering a one-day guarantee for each project—regardless of the space or size. Each painting project is completed by a team of clean, uniformed professionals who use environmentally-friendly zero-VOC and low-VOC paints ensuring that no harsh odors or fumes are left behind. Furthermore, our state-of-the-art call center and online booking service ensures that your experience from start to finish leaves you with a genuine sense of WOW! For additional information, call 1-888-WOW-1DAY (1-888-969-1329) or visit us online at http://www.wow1daypainters.com.