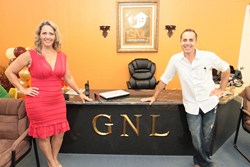 Family-owned and operated!
Pass Christian, MS (PRWEB) August 28, 2013
Cooking has long been an important part of life in Pass Christian, MS. With nine oyster reefs covering an area of around twenty square miles just offshore, Pass Christian provides some of the finest oysters in the world. It is only fitting then, that the area should also be host to some of the world's most beautiful kitchens.
Specialist marble and granite importer GNL Contractors, which operates out of Sildell, LA, is pleased to be serving the Pass Christian area through the supply of unique kitchen countertops, which create the perfect stylish kitchen in which to prepare the region's famous oysters.
In celebration of all things culinary, GNL Contractors has decided to offer Pass Christian homebuilders, home owners and interior designers a special deal on its countertops, from now until the end of December 2013. Until that time, anyone buying granite kitchen countertops in a choice of four colors will be eligible to receive either a free under-mounted sink, or a free 15 year sealer warranty.
The countertops are made from fine granite sourced from around the world, which is naturally heat-resistant, and thus brings both functionality and beauty to the home, with unique patterns in every piece. Those looking to take advantage of the GNL offer can choose from one of four edging shapes, ensuring that the countertops will suit any style of kitchen.
The under-mounted sink offer includes a stainless steel sink, cleverly designed so that it is flush with the countertop, for the ultimate in modern design, while the sealer offer ensures that the countertops remain almost impenetrable by stains and odors – something that will no doubt be particularly attractive to those regularly preparing seafood.
With the real estate market in the US finally beginning to pick up after a rocky few years, and homeowners looking to make improvements, natural stone countertops are a great way to add value to any home. Whether owners are planning to sell or to stay, a refreshed kitchen is the perfect choice. GNL Contractors offer measurement, fabrication and installation of their countertops from just $32 per square foot, making them the sensible, affordable choice for Pass Christian residents.
Though in recent years the impact of Hurricane Katrina and of the Deepwater Horizon oil spill have impacted on seafood processing in Pass Christian, with the US economy picking up again it is time to look to the future and plan for better times ahead. Savvy homeowners know that adding value to their properties is the way to do so – by making improvements now they are storing up real estate value for the future, something which GNL Contractors are happy to help with.
To find out more about GNL Contractors and this incredible offer, call (985) 288-5112, visit their showroom in Slidell, LA or check out http://www.gnlcontractors.com/.