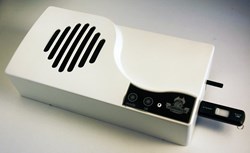 You can't knock it.
Sparta, NJ (PRWEB) August 23, 2013
If you have an interest in the ever increasing variety of digital doorbells, shop around: not all devices out there are created equal. The market is beginning to shake out a number of devices that offer different features from audio quality, programming, ease of use and installation.
For an example the Tommyknocker Doorbell is a hardwired doorbell that was built to last as long as your home. Test units have been beta tested for 10 years and are still going strong. The Tommyknocker is hardwired because it uses a good deal of voltage to power a 10-Watt amplifier and 4"full range speaker continuously. Continuous voltage means higher fidelity and offers up to 90 dB of projected audio. Batteries cannot power a device this size for very long, that's why it's better to hardwire to a permanent low voltage source if you can. The trouble with DC wireless devices is that they must have batteries that eventually need to be replaced. And like any high-quality amplification system, a continuous voltage source that does not run low is a must.
The Tommyknocker also uses MP3 formatted digital software. These files are easily uploaded via a USB port directly into the doorbell with a USB memory stick supplied with the unit. USB is the easiest way to upload audio files because there are no other analog cables necessary to degrade the single. Other digital doorbells may offer a built-in microphone to sample the file, but that is simply one more analog audio step in the chain. Any audio file may be formatted to MP3 on iTunes and placed on the Tommyknocker memory stick. Once the file order has been determined by the user, the Tommyknocker can be placed in "round robin mode" so that the files will rotate in succession every time the doorbell switch is activated.
The Tommyknocker is built in the United States and assembled on a solid steel chassis by Predominance LLC of Sparta NJ. The doorbell comes with rugged mounting hardware, pigtail and simple directions for swapping out your old solenoid doorbell. Once installed, one may even enjoy the Tommyknocker for use as a simple MP3 player. Consumers should make careful comparisons. Is your doorbell built to last the life time of your home? Visit http://www.tommyknockerdoorbell.net for more details.