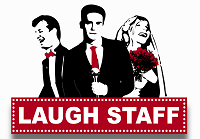 Picturing the audience naked just won't cut it anymore. That's where Laugh Staff comes in.
Cleveland, OH (PRWEB) August 23, 2013
Laugh Staff, the company that writes and edits best man and maid of honor speeches, is announcing in addition to offering their writing and editing skills, they are now coaching clients on public speaking.
"If you don't talk in front of people often, it's really hard to know where to look and how fast or slow you should be talking," said Laugh Staff consultant Kali Fencl. "And even knowing how to tell a joke can be difficult. Laugh Staff is made of up a team of comedians who perform anywhere between five and seven nights a week. We know how great it feels to succeed and how it feels to fail and I think that knowledge is something everyone giving a speech or toast is really looking for."
The Speech Coaching Package from Laugh Staff costs $49.99 and for that money, clients will receive a 15-minute consultation with a Laugh Staff consultant. The consultant will give feedback and homework for the client to review before the next consultation session. During the final consultation, the Laugh Staff consultation will work with the client on revisions and finalize the speech before the big day.
"We have been writing and editing speeches for clients, but we wanted to give them the extra option on honing their speech execution," said Laugh Staff co-founder Cameron Amigo. "If you weren't taking public speaking courses in school, chances are you don't do it very much, we want to help. Body language, tone, pace and volume can all make or break a speech. Laugh Staff can help clients develop all of those skills."
In addition to best man and maid of honor speeches, this coaching is excellent for job interviews, work presentations, toasts at company parties, or school presentations. The training that Laugh Staff provides can be applicable.
Laugh Staff would like to urge clients to be bold and take risks as well. The company would like to help clients write and deliver a speech that is both thought provoking and entertaining. They realize that it is the client's speech. They just want to help make it better.
For more information about Laugh Staff, Inc. visit http://www.laughstaff.com, call 740-706-6690 or email info(at)laughstaff(dot)com.
About Laugh Staff, Inc:
Laugh Staff, Inc. was founded in 2012 by a team of comedians and writers in Cleveland, Ohio. Laugh Staff helps their clients with best man speeches as well as providing best man speech examples on their blog. They assist best men and maids of honor in speech-editing, speech writing, and provide training on speech delivery. Recognizing the importance of the big day, Laugh Staff's professional comedians work with best men and maids of honor to ensure they make a lasting impression.