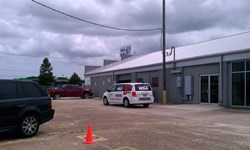 "Now customers can enjoy long term parking benefits without incurring high MSY long term airport parking expenses."
New Orleans, LA (PRWEB) August 22, 2013
Greenbee Parking, a rapidly growing airport parking service provider, has announced a strategic partnership with NOLA Airport Parking in New Orleans. This partnership will now allow Greenbee Parking to offer its customers a cheaper and safer parking spot for their vehicles without having to fork out the usual steep MSY long term airport parking fees. The lot is conveniently located less than a mile away from the airport; the NOLA parking lot offers ample parking spaces with better security and protection from weather anomalies. It is a bonus for travelers who like to avoid the mad airport rush every time they are traveling and would prefer to keep their cars at more secure lots than the public airport. With the 24 hour shuttle running every 15 minutes, parking the car and then hopping on for the airport is smooth and easy. No more worries about traffic and unforeseen road blocks on the way to the airport. Now one can drive down and park at leisure and then take the shuttle with enough time for check-in.
"It is our constant endeavor to improve on customer experience," said Christine Cooper – Marketing Coordinator, Greenbee Parking. "Our partnership with NOLA is a step in this very direction and with this we hope to make airport parking even easier for travelers using the busy New Orleans (MSY) airport. Now customers can enjoy long term parking benefits without incurring high MSY long term airport parking expenses."
Louis Armstrong New Orleans International Airport Parking Information
The eclectic culture has been a constant attraction for tourists the world over for ages, which means that the city ranks as one of the top tourist destinations in both domestic and international travel. Nature, culture, cuisine and a wild mix of races make it one of the most fascinating cities of modern times. New Orleans commands equal respect in both business and leisure travel round the year. Continuous heavy flow of travelers in and out of the city keeps the New Orleans (MSY) airport very busy. Naturally, this also means heavy and increasing demand for airport parking. Despite airport upgrades over the years there has been little improvement in the parking situation leading to rising customer complaints and dissatisfaction. Fortunately, with service providers like Greenbee Parking and their strategic partnerships, like the one they have with NOLA Airport Parking, will now provide easier and cheaper alternatives with affordable MSY long term airport parking rates.
The Greenbee Airport Parking Solution
Greenbeeparking.com is the connection between consumers and parking vacancies in close proximity to major airports and seaports. The parking spaces are very affordable because the company has negotiated discounted rates with major hotel chains for the parking spaces that are not currently occupied. Here's how it works.
Greenbee Parking puts the available inventory of parking spaces on their website to be reserved by business and leisure travelers looking for cheap airport parking. This alternative method for finding parking equates to significant savings for the traveler. These savings are sometimes as much as 75% less than parking at the airport or seaport.
About Greenbee Parking
Greenbee Parking is the nation's most innovative long term parking company, with a new way of making long term parking affordable. The company is rapidly adding new airports to its network. Check us out today!