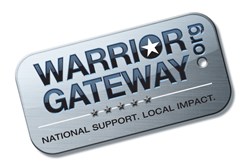 Arlington, VA (PRWEB) August 22, 2013
This Sunday, August, 25th, 2013, the CEO of Warrior Gateway, Devin B. Holmes, will be supporting the Boot Campaign and participating in the 3rd annual Boot Ride in Los Angeles, CA to raise funds, awareness and appreciation for the military community. The event includes a motorcycle ride with the Sons of Anarchy cast to the Happy Endings Bar followed by a multi-hour rally including musical performances by Blackberry Smoke, Tyler Bryant & the Shakedown, celebrity appearances by the Sons of Anarchy cast, special military appreciation and more.
"The Boot Campaign's innovative approach to engaging the military community and the sea of goodwill that supports them is an ongoing example of how a dedicated group of citizens can come together to support our veterans and their families," said Devin B. Holmes, CEO of Warrior Gateway. "I'm honored to be a part of their Boot Ride and look forward to wearing my boots this weekend!"
California is home to the largest veteran population in the country, with over 300,000 veterans in Los Angeles County alone. In addition to Warrior Gateway's solutions to build an online community for veterans and military families, the organization diligently connects with notable organizations serving the military community on the ground. The Boot Ride is a unique opportunity to connect with veterans as well as civilians passionate about improving the lives of our nations veterans and their families. Warrior Gateway invites all in the Los Angeles area to join them for the 3rd annual boot ride or rally, tickets can be purchased online at http://www.bootride.com.
About Warrior Gateway™: Founded in 2009, Warrior Gateway connects service members, military families, wounded warriors, families of the fallen and our nation's veterans with government and non-profit programs in their local community. Warrior Gateway harnesses state-of-the art technology and community collaboration to help today's military community make better decisions about what service provider they can go to for help. Their programs provide a public forum where people can share their experiences about the quality and effectiveness of those services. In 2011, Warrior Gateway's efforts were recognized with the Federal Computer Week Fed-100 award for significant contributions to the Federal IT community and in 2012 with a ComputerWorld Honors Laureate for our innovation in creating an open-source platform for information sharing. A proud partner of the Got Your 6 campaign, Warrior Gateway works to bridge the civilian-military divide with non-profit and government partners. Warrior Gateway is an IRS registered 501(c)3 organization. For more information, please visit: http://www.warriorgateway.org
About Boot Campaign: The Boot Campaign is a national 501c3 patriotic movement that is dedicated to showing tangible appreciation of our active military, raising awareness of the challenges they face upon return and supporting their transition home. Through the sale of its signature military combat boots, general public donations, and corporate sponsorship, the Boot Campaign operates five distinct initiatives — Housing, Jobs, Wellness, Urgent Assistance and Family Support– that are caring for military personnel, past and present, healing from a variety of physical and emotional combat wounds, embodying the campaign motto that, "When They Come Back, We Give Back". http://www.BootCampaign.com