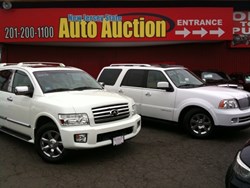 Buy Used Cars, Trucks, Vans and SUVs Below Kelley Blue Book Value.
Jersey City, New Jersey (PRWEB) August 21, 2013
The New Jersey State Auto Auction has finally launched their Pre-Owned Car Buying Web Site for the general public. Marketing Manager, Laszlo Ember said, "I'm pleased to debut our new web site, our web site was down for a while (which drove me crazy) - but we are back and stronger than ever."
With changing times and technology, there are are certain requirements that cars dealers must provide today's car shoppers. We are providing more vehicle information upfront to simplify the car buying process. Today's car buyers have more access to car data than ever before. We strive to present as much information as we can get about all of our used cars.
And, with auto financing becoming more complicated since the financial crisis, (auto lenders toughening standards), we have begun to automate the search and approval process making it easier for our buyers.
So come visit our new web site: http://www.njstateauto.com
The New Jersey State Auto Auction has been one of the top used car dealers in NJ since opening our doors in 1994, helping the general public find and buy quality pre-owned Cars, Trucks, Vans and SUVs below Kelley Blue Book (KBB) Value.
If you are looking for Used Car Bargains at Wholesale Prices with Clean Titles, then you have come to the right place. Take a look at what we have to offer: Search Used Cars
Our friendly and helpful office staff is ready to answer any questions you might have.
Call Today (201) 200-1100 - and let us earn your business.