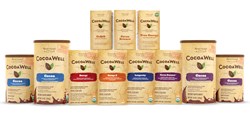 Gainesville, FL (PRWEB) August 23, 2013
Reserveage™ Organics has launched a new digital platform for its line of certified organic, fair trade cocoa supplements, CocoaWell®. Visitors to http://www.cocoawell.com can learn about the Reserveage Organics mission of creating products designed to nourish the body, protect the planet and preserve traditional culture. CocoaWell supplements provide the benefits of 70 percent cacao and are available in bars, powders and award-winning capsules.
Visitors to the site can also learn the amazing backstory behind these supplements—inspired by the healthy cocoa culture of the Kuna indigenous people of coastal Panama.
The Kuna are considered to be one of the world's healthiest cultures. They follow a daily, sacred practice of drinking several cups of raw cacao sweetened with plantains.*
A major university's 20-year research study of the Kuna found they were able to maintain already normal blood pressure levels and enjoy good cardiovascular health. This study found that drinking their cacao drink every day contributed to their health and longevity.*
The Kuna are still drinking their cacao every day but 70 percent of their cacao trees are gone, destroyed by a disease called witch's broom. This caused a loss of livelihood for cacao farmers and diminished the supply of raw cacao on the islands.
CocoaWell has embarked on a new program to help the Kuna restore their natural cocoa production so the Kuna people can develop a sustainable economy.
Site visitors will find additional details about this project, as well as CocoaWell's commitment to sustainable initiatives and Fair Trade. The blog feature allows visitors to experience Naomi's journey to Kuna Yala as part of the reforestation project.
"Our new digital platform serves as a great medium for reaching people who want to know about cocoa's supplemental benefits, as well as engaging them in our efforts to improve cocoa production in Kuna Yala," says Reserveage Organics CEO and Founder Naomi Whittel. "Customers today are interested not only in the products a company provides, but also whether it serves the community and planet with the same passion. We want them to know that we are passionate about both."
About Reserveage™ Organics
Inspired by the wisdom of nature and the healthiest cultures around the world, Reserveage aims to provide high-quality, science-driven products that deliver life-changing benefits. We know nature is a powerful and abundant source, so we travel the world in search of the finest natural ingredients. The philosophy that inspires us to enhance the relationship between science and nature drives the formulations we create using clinically researched ingredients with demonstrated results. We strive to provide the world's most advanced and innovative nutritional supplements that deliver the promise of supporting optimal wellness.* We are devoted to providing naturally derived ingredients in authentic formulas.
For more information about the complete line of CocoaWell products, visit http://www.cocoawell.com
*These statements have not been evaluated by the Food and Drug Administration. This product is not intended to diagnose, treat, cure or prevent any disease.