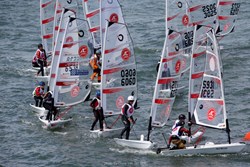 I was blown away by the organization of not only the AC Open series, but in particular with the O'Pen BIC event.
Newport, RI (PRWEB) August 22, 2013
Nautical photographer, Onne van der Wal Gallery, was invited to photograph the O'Pen BIC High Wind Slalom Regatta, which took place this past weekend.
The highly esteemed nautical photographer, Onne van der Wal, states: "I was blown away by the organization of not only the AC Open series, but in particular with the O'Pen BIC event. Nevin Sayre (former Olympian and windsurfing legend and now North American Manager for O'Pen BIC) did an amazing job recruiting the right sailors, making it fast and fun and keeping everyone safe in the very windy Bay. It was a blast to photograph and an honor to see these junior sailors shine in the spotlight of sailing's biggest event: The America's Cup."
The popular event took place this past weekend with 26 lucky sailors invited from yacht clubs and sailing programs all over the country, and even as far away as New Zealand, Bermuda and Hawaii. The O'Pen BIC is a 9-foot boat designed for youth sailing at an advanced-intermediate level and is meant to be the follow up boat after Optimist Dinghys.
"It's a great boat in all wind conditions. I was super excited to bring these junior sailors and the fast and fun O'Pen BIC to this amazing venue. To put these kids in front of an America's Cup audience and show how fun the boats can be with heavy wind was my main goal. We put together a fun slalom course and made 26 kids about as happy (and soaking wet) as they could be," says Sayre.
The slalom course that was set up on the notoriously windy San Francisco Bay, provided challenging conditions for the sailors, who are required to sail with helmets for safety on this nimble, rocket-like boat. The courses set on the bay featured short, high speed slalom course, really allowing the young racers to test their mettle and show off for the America's Cup crowds gathered in the grand stand ashore.
About Onne van der Wal Photography
Onne van der Wal has been a nautical, sailing and yacht photographer for over 20 years. Providing an in depth understanding to sailboats and yachting, in addition to his skills as a professional photographer, van der Wal brings a keen eye to each ocean photography project, who was once a professional sailor himself. In addition to his extraordinary photography projects done around the world, a gallery of his work can be found at his namesake gallery on Bannister's Wharf downtown. For more information on Onne van der Wal, his photography and his Newport Gallery, visit http://www.vanderwal.com .