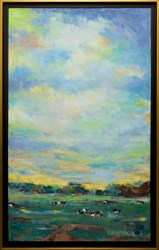 "New talent has a way of making us see all art with fresh eyes." -Lisa Russell, Owner, Russell Collection Fine Art Gallery
Austin, Texas (PRWEB) August 23, 2013
Diversity can be found all around Austin, Texas, including the art Lisa Russell brings to the Russell Collection Fine Art Gallery. From the serene realism of Mediterranean landscapes and abstract wisps of nature to the vibrancy of comic strip-inspired art and humor of the human form, the four new contemporary artists Russell has added to her collection show, once again, why the New York Times said she has "Austin's most exclusive gallery."
"I love bringing diversity to my gallery by mixing the energy of contemporary art with the familiarity of classics like Degas, Picasso and Renoir," says Russell. "New talent has a way of making us see all art with fresh eyes."
About the Artists:
Yale educated Tom Everhart was introduced to comic strip artist Charles Schulz in 1980 while working on a freelance project. Schulz was so impressed with his work, that they continued collaborating for many years until Everhart began painting the Schultz Peanuts characters in larger than life ways. In 1990, his first Schulz related work went on to show at the Louvre in Paris, and he has continued bringing the Peanuts characters to life on the canvas ever since. Everhart is the only fine artist educated by Schulz and legally authorized by both Charles Schulz and Iconix to use subject matter from Schulz's Peanuts strip to create fine art.
Noah Desmond is inspired by nature. His impressionistic style borders the edge of abstraction while he creates landscapes and florals with bold colors and a sense of movement that draws you deep into the work. His energetic compositions are rendered with vibrant color, vitality, and spontaneity. His textured canvases are created by layering pigments with both palette knife and brush, resulting in exciting landscapes, rich in depth and vibrancy.
Joel McFadden originally moved to New York after college to become a "serious artist;" however, he stopped painting for several years once he got there. While on an art history trip through Italy, McFadden was inspired by the faces in artwork depicting religious saints. He began painting faces, making them up, distorting them, looking for a dialog between the painting and himself. In many of his pieces, humor plays a role, breaking the unspoken rule about combining humor with fine art.
Kiku Poch was borne in Barcelona, Spain to artist parents. His own artistic interest emerged at an early age; and Kiku pursued graphic design as a career at a prestigious advertising agency in Barcelona until it closed. He began working in the "noble medium" of oils, which he had never previously attempted. But when he sold the third oil painting he ever did, his painting career was born. As an admirer of the great Catalan landscape artists and early impressionists, all elements of a painting: drawing, composition, texture, color and light are equally important to him.
The Russell Collection Fine Art Gallery is located at 1137 West 6th Street in Austin, Texas. Gallery hours are Tuesday- Saturday from 10 a.m. – 6 p.m. More information can be found on the gallery at http://www.russell-collection.com or at http://www.facebook.com/russellcollection.
Photography and interviews available upon request.