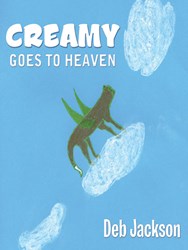 Death is not something that should be hidden from our children,
Lenora, KS (PRWEB) August 23, 2013
Helping your little ones understand the circle of life can be difficult, but what happens when your child is suddenly hit with the reality of death in their own life?
Author, Deb Jackson helps kids come to grips with grief in Creamy Goes to Heaven, the story of a dog's reflection on the death of her friend, Creamy the cat. Through the sharing of Creamy's adventures, readers come to better understand the nature of death and it's place in life.
"Death is not something that should be hidden from our children," says Jackson. "It's important to discuss these life events early on with our kids so that they know how to best handle their emotions when dealing with suffering and loss in the future."
By describing death as a natural part of life, Jackson uses Sheila the dog as a model to show readers that despite sadness, they can discover happiness through remembering the memories of loved ones.
Creamy Goes to Heaven teaches children that there are no instructions on how to grieve properly and to understand that tears and remembering good times are natural and healthy behaviors.
Creamy Goes to Heaven
ISBN: 978-1-44978-762-2
Available at http://www.amazon.com and http://www.barnesandnoble.com.
About the author:
Deb holds a bachelor and masters degree in Nursing from Loyola University of Chicago, and has worked over a decade as a hospice care professional. She and her husband have four children, two grandchildren, and live on a small cattle ranch with their animals. She hopes to help children by offering important life lessons through her RedshoesDeb series of children's books, all starring animals behaving in relatable ways to instill good values.
####