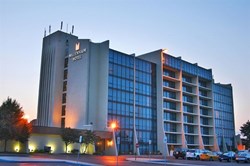 "For busy airports like BUF we are focused at creating ample parking choices...."
Buffalo, NY (PRWEB) August 26, 2013
Greenbee Parking, a dynamic young airport service provider, has come out as clear winner in the latest BUF Airport parking reviews. The young brand has excelled in providing great parking services for travelers using the busy Buffalo (BUF) airport, that too at very affordable rates. Customer experience and feedback, available on the official website, show that Greenbee services exactly match the traveler needs for this airport and have gone a long way to ease the parking woes associated with BUF. What makes this service stand apart are not just the great deals and rates but also multiple parking options which allow customers to pick and choose the kind of parking they want for their vehicles. The deals are a further bonus because now one can get significant discounts for not just long-term but also short-term parking needs.
"Our services are designed to match the needs of individual airport scenarios," said Christine Cooper – Marketing Coordinator, Greenbee Parking. "For busy airports like BUF, we are focused at creating ample parking choices so that there is something for everyone and for all kinds of vehicles. We are humbled and excited by the latest BUF Airport parking reviews and hope to come up with more innovative options for our customers."
Buffalo Niagara International Airport Parking Information
Buffalo Niagara International Airport is one of the key airports connecting the cities of upstate New York and its neighboring areas. It is a preferred airport for business travel in the state which leads to a fair number of passenger footfalls round the year. It also sees a high level of tourist crowd for both the state as well as for the Canadian border states. There are quite a few public transport options like buses, the NFTA-Metro Bus and Rail, taxis and shuttles, several the Canadian Ground Transportation options along with rental cars. But the major airport traffic is still caused by owner vehicles which inevitably lead to high demand for airport parking space lack of which is a major cause of tension between passengers and airport authorities. Now with service providers like Greenbee Parking, there are numerous parking options available all of which come with an affordable price tag which means significant savings for travelers. Booking a space online is quick and easy and payment through a secured gateway absolutely safe. Together they provide an amazing customer experience which has led to the rave BUF Airport parking reviews that they have just received.
The Greenbee Airport Parking Solution
Greenbee Parking has effectively bridged the gap between parking problems and solutions at both airports and major seaports. They have tied up with major hotels for available parking spaces at discounted rates which they offer their customers across the nation who can now save up to 75-percent off their parking costs.
All they need to do is visit Greenbeeparking, select their city or airport of choice, choose the parking spot and pay through a secured payment gateway. There is a comprehensive list of airports and parking spots to choose from. Greenbee's wide network makes it possible for every customer who logs in to find a solution.
About Greenbee Parking
Greenbee Parking is the nation's most innovative long-term parking company, with a new way of making long-term parking affordable. The company is rapidly adding new airports to its network. Check us out today and get your discounted spot reserved!