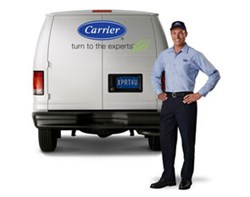 Cleveland, OH (PRWEB) August 24, 2013
With the first day of fall fast approaching (September 22), Ohio Home Comfort reminds homeowners seeking efficient air conditioning in Cleveland to perform seasonal maintenance of their HVAC system. A few simple steps can ensure a smooth transition between summer cooling and fall/winter heating:
1. Inspect the unit. A simple inspection of the HVAC unit can determine if further maintenance or repair needs to be done. Turn on the unit and look for the following: Is there any debris or dust build-up on the coils? Are the blades balanced and spinning without making noise? Are the wire connections tight?
2. Check for air leaks. Leaking air is like throwing money out the window. Prevent air leaks by inspecting doors, windows, and air ducts when the system is turned on. Seal leaks with weather stripping or caulking.
3. Change the filter. At the beginning of the season, install a new air filter and replace it every three months. A dirty air filter is a leading contributor to seasonal allergies and an inefficient heating system.
4. Schedule service. If any problems were found during the system's inspection, scheduling immediate service with an authorized dealer will ensure little interruption in a home's air quality and comfort level.
For more information and to schedule seasonal maintenance with one of Ohio Home Comfort's authorized dealers, Cleveland residents are encouraged to visit http://www.ohiohomecomfort.com.
About Ohio Home Comfort
Carrier Factory Authorized Dealers at Ohio Home Comfort are trained and certified to repair all makes and models of air conditioners, furnaces, humidifiers, air cleaners, and many other heating and cooling products.