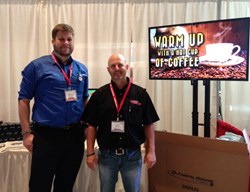 Together, we're offering a turnkey 'all-in-one-box' solution for sign companies to take part in the Digital Signage movement.
Joplin, MO (PRWEB) August 26, 2013
The Tri-State Sign Expo is held every year in August at the Downstream Casino Resort in Joplin, MO. This year, the expo drew over 350 people representing seventy sign companies from Kansas, Oklahoma, and Missouri to look at the latest technologies and offerings for the sign industry. Vendors represented all aspects of signage with new technologies showcased. ZM Media took the opportunity to reveal an 'all-in-one-box' Digital Signage solution for the sign industry at the Expo.
Digital Signage (DS) is not simple. The solutions in the market are often tailored for large-corporate use with hundreds, if not thousands, of LCD screens involved. Smaller organizations are often left in the dark with integrators working to cobble together a solution. The research, work, and effort to collaborate with all the different providers in the market often means a solution for an organization looking to put in a single LCD screen, or even a few, is either too costly or involves a long turnaround from concept to completed installation.
Ben Ziglin of ZM Media realized the initial investment in time, education, and money to get started with DS is too much and the technology available is too complicated for an average sign company. He knew there was a simpler, better way to help the sign industry get involved with DS. Ben went to work on creating a turnkey solution so sign companies didn't have to pass on opportunities to help organizations they're working with. With the support and partnership of Spectacular Media, he had the final piece in a puzzle he had spent years putting together.
"Spectacular Media has been awesome with their support and partnership. They really understand the market and how to deliver a simple, effective DS solution for clients. Together, we're offering a turnkey 'all-in-one-box' solution for sign companies to take part in the Digital Signage movement," Ben stated as he stood at the ZM Media's Tri-State Sign Expo booth.
The solution is unique to the sign industry. Never before has someone taken the time and effort to make DS simple for sign companies. ZM Media's 'all-in-one-box' solution consists of an option for either 32" or 40" commercial-grade LCD screen set with all the required mounting brackets, cables, and media player setup, installed, and ready to go out of the box. ZM Media includes instructions on installation and initial startup to make the solution a simple 3 step process to unpack, install, and plug-in the system.
Deacon Wardlow (Technology Rep for Spectacular Media) stated, "ZM Media has an impressive amount of experience with large and small scale DS solutions. It's great to finally see someone bring an offering like this to the sign industry. Not only are they delivering a solid solution for sign companies, but they're backing the solution with the knowledge, experience, and support so sign companies can get the most out of the system."
Spectacular Media's cloud-based SM Infinity™ ensures the DS solution is easy to manage with stunning custom-tailored content developed for each client. The cloudware system allows anytime, anyplace access to the LCD screens with dynamic conditional messaging and dayparting options standard. With ZM Media's 'all in one box' offering, sign companies can now take advantage of opportunities to support their clients with a ready to go digital signage system.