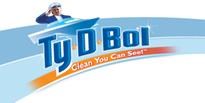 Participating in this process has allowed us to really reach out to our consumers and tell the Ty-D-Bol story.
St. Louis, Missouri (PRWEB) August 22, 2013
Ty-D-Bol, an iconic American toilet bowl cleaning brand, headquartered in St. Louis, Missouri is advancing to the second round in the "Get on the Shelf" program, presented by Wal-Mart. Wal-Mart shoppers are able to select various products based on submitted videos in multiple consumer divisions. The "Get on the Shelf" contest offers inventors and entrepreneurs the opportunity to win shelf space at Wal-Mart and additional exposure to millions of potential customers.
"It's not every day that one of your products is recognized by Wal-Mart, Inc. as a best product not currently on its shelves," said Shelley Cade, Brand Ambassador for Ty-D-Bol. "Participating in this process has allowed us to really reach out to our consumers and tell the Ty-D-Bol story. Through its history, Ty-D-Bol has earned a stellar reputation. We are thrilled to continue to grow and gain notoriety in St. Louis and around the nation with the help of our community."
After submitting a video entry, Wal-Mart selected the top 20 product finalists, including Ty-D-Bol, to advance to the second round of the competition and feature each product in an original web series produced by VIMBY, The Mark Burnett Digital Studio. The Ty-D-Bol video is available for viewing by visiting: https://getontheshelf.walmart.com/product/1d17/TY-D-BOL/. Voting is underway and can be cast daily, now through September 2 at 11:59 pm EDT.
Through the "Get on the Shelf" program, up to five products will be chosen and sold at http://www.Walmart.com. One or more of the finalists will be selected as the "Get on the Shelf" grand-champion. The winner is selected based on the number of online pre-orders and could secure shelf space in select Wal-Mart stores nationwide.
The "Get on the Shelf" program started in 2012 by the technology arm of Wal-Mart Global e-Commerce. The contest attracted more than 5,000 product entries and generated more than one million votes nationwide.
For more than 55 years, the Ty-D-Bol family has brightened bathrooms with a dedication to safety, innovation and sustainability. From in the tank to over the rim cleaners, the iconic American brand offers 10 different products designed to clean, freshen, deodorize and protect toilets against harmful germs and bacteria. For more information on the line of Ty-D-Bol products visit, http://www.tydbol.com.
About Ty-D-Bol
Headquartered in St. Louis, Ty-D-Bol is the leading producer of toilet bowl cleaning products since 1958. The company launched its first liquid product in 1958 and since then, families around the nation have trusted Ty-D-Bol as the toilet bowl cleaning and freshening experts. Ty-D-Bol continues to offer scientifically-advanced, patented, formulas, products and solutions for essential cleaning. For more information, call 314-772-2822 or visit http://www.tydbol.com. Find Ty-D-Bol on Twitter at @TyDBolClean, on Facebook at https://www.facebook.com/tydbolclean and on YouTube at http://www.youtube.com/channel/UCL8gQlxEvQos3P6gslM1bhg.