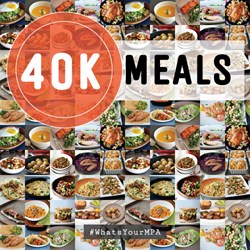 By having three or more home-prepared meals versus dining out, a family of four over the course of a year can save up to $4,000, eat 2,190 more servings of vegetables, consume 79,000 fewer calories and
spend 81 more hours together over family dinner.
San Francisco, CA (PRWEB) August 22, 2013
Cook Smarts launched the 'Raise Your Meal Planning Awareness' campaign, the first-ever meal planning education program focused on teaching home cooks how proper meal planning and basic cooking skills can help them avoid obesity and other diet-related diseases, financial challenges and splintered family relationships. Individuals get access to the free eight-part educational series by pledging to cook four more meals in September through the Raise Your Meal Planning Awareness website mpa.cooksmarts.com.
The program's objective is to help 10,000 families cook four additional meals throughout September, which adds up to a total of 40,000 healthy home-cooked meals. This could result in up to $1 million saved, 5 million fewer calories consumed, and 20,000 more hours spent at the dinner table versus eating meals out of the home. Cook Smarts is working with food, health, fitness and lifestyle bloggers to get the program into as many communities as possible.
The educational program consists of online video tutorials, guides, and checklists specifically designed to combat four major challenges facing American families:
1. Personal Finances

Shoppers spend 40 percent more at the store when they shop without a grocery list. (1)
In 2013, we spent 75 percent more eating out at restaurants than we did in the year 2000 ($660 billion vs. $379 billion). (2)
2. Healthy eating and cooking are still challenging

Only 23 percent of meals include a vegetable (3); children, teenagers and adults get less than 50 percent of the recommended amount of vegetables. (4)
28 percent of Americans say they do not know how to cook and 21 percent say they don't have enough time to cook. (5)
3. Rise of obesity and other diet-related diseases

Overweight and obesity are associated with increased risk for many types of cancer. (6)
Childhood obesity has more than doubled in children and tripled in adolescents in the past 30 years. (7)
4. Decrease of shared quality family time

On average, sharing 3 or more family meal times per week reduces the odds for children and adolescents being overweight by 12 percent, eating unhealthy foods by 20 percent, and disordered eating by 35 percent. (8)
Compared to teens who frequently have family dinners (5 to 7 per week), those who have infrequent family dinners (fewer than 3 per week) are twice as likely to use tobacco and one and a half times likelier to use marijuana.(9)
"The US has the highest obesity rate globally and childhood obesity is on the rise. We started this campaign to help home cooks avoid these and other health and financial challenges facing our nation. As a cooking instructor I saw many people struggle in the kitchen, and I see the stress that comes from not knowing how to meal plan and cook efficiently as a huge roadblock to our country's path to healthier living," said Cook Smarts Founder Jess Dang. "We believe that by giving people the tools, knowledge and skills to plan and prepare home cooked meals throughout the week we can help them meet their health and financial goals."
More information about the program including material outline, infographics and fact sheets can be found on the mpa.cooksmarts.com awareness website or facebook.com/whatsyourmpa.
About Cook Smarts
Cook Smarts' mission is to create content that inspires, educates, and empowers home cooks. Founded in 2011, Cook Smarts began as one-on-one cooking lessons for home cooks in the Bay Area. Through this experience founder Jess Dang learned that many home cooks of varying skill levels were short on knowledge, time, and confidence. To help home cooks overcome these challenges the company expanded its offerings to include recipes with learning components, how-to videos focusing on basic skills, and a weekly meal planning service. Each of these expertly designed programs work together to give home cooks the confidence they need to accomplish their health and financial goals. http://www.cooksmarts.com.
Press Contact: Soley Somma
Phone: 240.393.6014; Email: soley(at)cooksmarts(dot)com
@cooksmarts
@soleysomma
1. Kansas State University. "Dining on a Dime." ksre.ksu.edu/HumanNutrition/doc9928.ashx
2. National Restaurant Association. 2013 Restaurant Industry Pocket Factbook. restaurant.org/Downloads/PDFs/News-Research/Factbook2013_LetterSize.pdf
3. Centers for Disease Control and Prevention. cdc.gov/healthyyouth/nutrition/facts.htm
4. Centers for Disease Control and Prevention. cdc.gov/healthyyouth/nutrition/facts.htm
5. Impulse Research. delish.com/food/recalls-reviews/one-third-of-americans-do-not-know-how-to-cook
6. Centers for Disease Control and Prevention. Childhood Obesity Facts. cdc.gov/healthyyouth/obesity/facts.htm
7. Centers for Disease Control and Prevention. Childhood Obesity Facts. cdc.gov/healthyyouth/obesity/facts.htm
8. Pediatrics. "Is Frequency of Shared Meals Related to the Nutritional Health of Children and Adolescents," June 2011. ncbi.nlm.nih.gov/pmc/articles/PMC3387875/
9. The National Center on Addiction and Substance Abuse at Columbia University. "The Importance of Family Dinners," September 2010. casacolumbia.org/upload/2010/20100922familydinners6.pdf