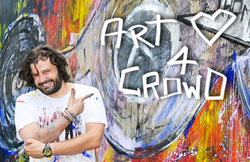 I want to incentivize the public to become involved with contemporary art and use creative expression as a way to give back to the community. I want my art to inspire others to impact the lives of those around them. - Domingo Zapata
New York, NY (PRWEB) August 22, 2013
EarlyShares.com, a premiere crowdfunding portal, announces its partnership with International Artist Domingo Zapata and The Bowery Mission to launch Art4Crowd. This is the first ever crowdfunded outdoor mural project in New York City.
Zapata, a personal supporter of The Bowery Mission, will be restoring the organization's HQ building façade on Madison Avenue as a part of the Art4Crowd campaign, which will officially launch on August 20th, 2013. Net proceeds from the campaign will benefit The Bowery Mission and will go towards their programs for homeless adults and at-risk children in New York City. Through the EarlyShares crowdfunding platform, participants will support the restoration project as well as support The Bowery Mission's work.
The Art4Crowd crowdfunding project will include incredible rewards for backers, ranging from limited edition merchandise to original Domingo Zapata paintings at reduced prices. Information on how to join Art4Crowd's efforts and how to help fund this project can be found at http://www.earlyshares.com/art4crowd
The Bowery Mission's programs have been providing hope and life transformation for people in need across New York City for over 134 years. Through the Art4Crowd campaign and the work of Domingo Zapata, the organization's headquarters will be able to communicate their message of hope to the NYC community and to raise awareness of their critical work. The exterior of the headquarters has been in dire need of renovations and given Zapata's existing ties to the organization, it was the perfect location for the mural. In 2013, Zapata sold $100,000 of his art to Garlic Pizza in NYC and instead of accepting payment, he insisted that the money be donated in the form of meals for the residents of The Bowery Mission.
"The Bowery Mission is delighted and honored to work with Domingo Zapata on this project and we are grateful for his heart for the homeless and poor in New York City," said Ed Morgan, President and CEO of The Bowery Mission. "He has generously offered to donate all net proceeds from this project to support our work. The net proceeds received from this campaign could not come at a better time, as we implement our plans to double our services across the city."
The mural is inspired by Domingo's painting "La Danse" celebrating the gift of life and community.
"I want to incentivize the public to become involved with contemporary art and use creative expression as a way to give back to the community. I want my art to inspire others to impact the lives of those around them," said artist Domingo Zapata of the project.
Stephen Temes, Chairman of EarlyShares.com, said of the project, "As a child, I grew up passing the iconic Keith Haring mural on the FDR in Manhattan and always dreamed of doing something like that when I got older. I am so excited to partner with my good friend Domingo and provide an amazing platform for him to create his work and help so many people."
Residents of NYC will be able to follow the progression of the mural and watch Domingo Zapata as he completes the project. He will begin painting directly on the building's façade during the week of September 23rd.
What is Art4Crowd?
Art4Crowd is an initiative to make exclusive contemporary art accessible to a diverse public audience via Crowdfunding and to support a deserving local charity. The first Art4Crowd project is a partnership with international artist Domingo Zapata, who will be painting a public mural and restoring the headquarters of The Bowery Mission in New York City. Supporters of this first Art4Crowd project will receive unique rewards ranging from limited edition products to commissioned artwork. All net proceeds will be donated by Domingo Zapata to help New York City's homeless and poor at The Bowery Mission, an organization that the artist personally supports.
Who Is Domingo Zapata?
Domingo Zapata is a Spanish-American artist born in Palma de Mallorca, Spain. Currently, Zapata maintains studios in New York City, Paris and Miami. In these private ateliers, he produces figurative and abstract expressionist paintings. He paints in oil and acrylics, often-incorporating mixed media, collage, and graffiti. A true talent, The New York Post has dubbed Domingo the "new Andy Warhol"; his work routinely sells for six figures and is collected by A-list celebrities and top art collectors around the world. Zapata has just revealed his new "A Midsummer Night's Dream" exhibition in Venice, Italy during the Biennale and has been commissioned to paint a mural in the lobby of the new One World Trade Centre tower in New York City.
The Bowery Mission
The Bowery Mission has served homeless and hungry New Yorkers since 1879. The Mission has played a key role in challenging times from the Great Depression to the 9/11 terror attacks and most recently, Hurricane Sandy. This year, The Bowery Mission provided more than 369,200 meals, 79,300 nights of shelter and 53,200 articles of clothing, as well as showers, haircuts, and expert medical and optometric care. Each meal and every night of shelter is an invitation to its residential recovery programs, where lives are transformed from hopelessness to hope. Five residential programs house more than 200 men and women who are regaining sobriety, reconnecting with family and faith, pursuing educational goals, and preparing for work and independent living. http://www.bowery.org
About EarlyShares
EarlyShares.com is a Crowdfunding platform based in Miami, FL. The company is creating the funding platform of the future, where small investments ignite big ideas. EarlyShares connects individuals, investors and communities enabling them to invest in companies, support projects, and earn rewards in an efficient, trusted and secure environment. To learn more, visit http://www.EarlyShares.com.
Press Contact for Domingo Zapata:
Jessica Ritt - Paul Wilmot Communications
jritt(at)greatpress(dot)com
212-206-7447
Press Contact for EarlyShares:
Amy Brownstein
amy(at)prstudiousa(dot)com
310-391-6505
Press Contact for The Bowery Mission:
James Winans
jwinans(at)bowery(dot)org
973-634-0496
212-684-2800 (ext. 104)