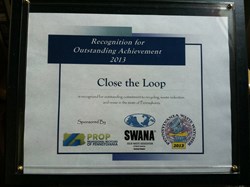 "We hope the idea for a Give and Take Day spreads across the U.S.A."
Kunkletown, PA (PRWEB) August 22, 2013
The Professional Recyclers of Pennsylvania (PROP) is pleased to recognize Pennsylvania's most outstanding recycling programs and projects.
The Pennsylvania Waste Watchers program recognizes recycling, waste reduction, reuse, and composting programs in Pennsylvania that have exhibited exemplary performance. This year, over 70 municipalities, counties, private businesses, individuals, and community organizations from throughout Pennsylvania are being recognized for going above and beyond what is mandated under Act 101 for their communities or programs.
One of the winners of the Waste Watcher award, Close the Loop Company, which offers recycled products like durable plastic fencing and posts, rubber and glass mulch and more, has partnered with Chestnuthill Township along with the West End Park & Open Space Commission to organize their fifth annual "Give and Take Day" event held at Chestnuhill Park, Rt 715-Brodheadsville on Sat, April 6, 2013. The final tally was an estimated 4,000 pounds of useful items worth thousands of dollars kept out of landfills and going to reuse in the local community. Hundreds of people attended. Give and Take Days are a great way to reuse items that are too good to throw away but you just don't have a use for them anymore – just bring along any reusable items, then take away anything you want – it's free! You don't have to bring something to take something.
"We offer a free Give and Take Toolkit upon request for townships or groups to run their own Give and Take Day and hope the idea for a Give and Take Day spreads across the U.S.A," said Rita Lacey, President & CEO of Close the Loop.
Act 101 – the Municipal Waste Planning, Recycling and Waste Reduction Act – has helped generate significant economic and environmental benefits for over 20 years now. Recycling has become a billion dollar industry in Pennsylvania and with each passing year, there is a steady increase in the amount of collected recyclables and the number of jobs created by the industry. Recycling has saved precious resources and energy, limited greenhouse emissions as well as other air and water pollutants.
This growth and success is the result of a serious commitment to recycling by individuals, businesses, government and recycling and organics industry personnel like Close the Loop Company and the other award winners.
For a complete list of all Waste Watcher winners, please visit http://www.proprecycles.org/. For more information on Close the Loop Company, visit http://www.closetheloop.com.