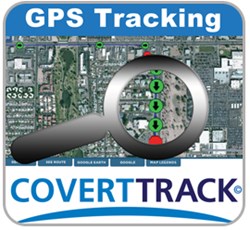 The CDMA Edge offers an affordable fleet management solution.
Scottsdale, AZ (PRWEB) August 27, 2013
CovertTrack Group Inc., a leading provider of GPS Tracking Systems for commercial and government applications, has released a new cost-effective solution for fleet tracking and mobile workforce management. The CDMA Edge vehicle tracker provides owners of small to medium-sized fleets a solution to improve productivity, efficiency and accountability in their daily operations.
The EDGE is a complete vehicle tracking system, providing full-featured tracking capabilities in one economic and reliable GPS tracker. Unlike portable trackers that need batteries, or hard-wired trackers that require installation, the EDGE is designed to operate using a plug & play design; by simply plugging it into the vehicle's OBD-II port.
With the Edge, fleet managers can quickly view the location and route of any vehicle, at any time. The Edge operates using the Verizon cellular network –providing reliable, accurate, GPS location data. Tracking data provides fleet managers the information they need to effectively adjust routing, minimize response times, increasing fuel economy and improve overall productivity.
The EDGE is packed with valuable fleet management features. An alert system sends notifications in cases of tampering or device removal, while the internal 200mAh backup battery continues to provide GPS tracking. Features like geo-fence alerts and landmark tracking provide essential tools for eliminating unauthorized stops, side trips and after-hour vehicle usage.
"Small to medium-sized business owners don't always realize just how much they can reduce operating costs by using fleet tracking to manage their vehicles. The CDMA Edge offers an affordable fleet management solution utilizing the Verizon Cellular Network, which is widely recognized as the most reliable coverage provider in the Nation," said Kirk Waltz, Commercial Sales Manager.
The EDGE is backed by CovertTrack©, the industry-leading GPS tracking interface. The site is designed with innovative, state-of-the-art tracking features, yet it is simple and easy-to-use. CovertTrack© is an entirely web-based application, requiring no computer software or application downloads. Tracking can be displayed down to sub-minute intervals, from any web-enable computer or mobile device.
EDGE Features:
Real-Time Vehicle Tracking down to 5 Second Intervals
Tracks Vehicle Speed, Location & Heading
Device Removal Alert
Internal Back-up Battery
Built-in OBD-II Connector for Fast & Easy Installation
CDMA Verizon Cellular Technology
Superior GPS & Cellular Quality
Email & SMS Alert System
3-Axis Accelerometer
Unlimited Historical Tracking Data
Ideal for 12 volt Passenger & Light-Duty Vehicles
For more information about the CDMA Edge or GPS Tracking, call Kirk Waltz at (480) 661-1916 or visit gpsintel.com.
About CovertTrack Group, Inc.
Founded in 2006 in Scottsdale, Arizona, CovertTrack Group, Inc. is a leading provider of GPS tracking solutions for law enforcement, government and commercial applications.