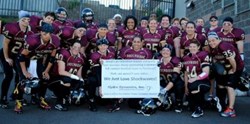 "We thrilled with our association with the Portland Shockwave...We're very proud of their efforts this year and excited about sponsoring the Shockwave again next year." -Doug Mancosky, Vice President of R&D for HDI
Rome, GA (PRWEB) August 22, 2013
This year marked the inaugural season of HDI's sponsorship of the Portland Shockwave (http://www.portlandshockwave.com) football team. The Portland Shockwave is a women's full contact football team that plays in the Women's Football Alliance (WFA), a nationwide league. The team is now featuring HDI's sponsorship in a first page splash on the team's website complete with a picture of the team holding HDI's on-field banner.
The team finished 5-4 this year and was fighting for a playoff spot until the very end. Doug Mancosky, Vice President of R&D for HDI said, "We thrilled with our association with the Portland Shockwave. The buzz with this sponsorship has been tremendous. We're very proud of their efforts this year and excited about sponsoring the Shockwave again next year."
About Hydro Dynamics
Hydro Dynamics is the developer of a patented cavitation process intensification technology called the ShockWave Power Reactor (SPR), enabling customers to solve critical mixing and heating problems. Reactors are operating on four continents with well-known customers in applications as diverse as increasing biogas yields, biodiesel transesterification, processing petroleum drilling fluids, chemical synthesis and homogenization/pasteurization of liquid eggs. The ShockWave Power Reactor allows customers to significantly decrease costs and increase profits, often with environmental and safety benefits. Learn more at http://www.hydrodynamics.com.