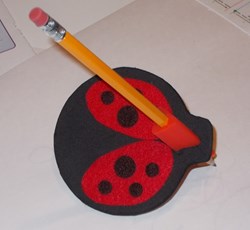 "The Doodle Bug design solves a real problem, while also being fun and making people smile," said Joshua Nelson, Program Manager at TREAT.
Arlington, VA (PRWEB) August 26, 2013
The Doodle Bug Writing Aid, a small, inexpensive device designed to help those with hand injuries, congenital malformations, or arthritis hold a pencil or a pen independently and easily was awarded the "Technology Most Likely to Become Commercially Available" prize in the 2013 RESNA Student Design Competition.
The winning student designers from California Lutheran University were honored at the annual awards luncheon at the RESNA Annual Conference on June 23, 2013 in Bellevue, WA. The award comes with a $500 cash prize and an invitation for one team member to spend 3 weeks at the Center for the Translation of Rehabilitation Engineering Advances and Technology (TREAT) n Lebanon, NH, further developing the product. TREAT is the sponsor of this unique award, which was offered for the second year as part of the RESNA Student Design Competition.
For over 30 years, the RESNA Student Design Competition (SDC) has showcased creative and innovative assistive technology designs that help people with disabilities function more independently. Entries were judged on originality, quality of design, and usefulness to persons with disabilities. Six semi-finalist teams were selected to attend the RESNA conference, where the students presented to a panel of judges. The six semi-finalists were:

Smart Belt: A low-cost seizure detection device – Rice University (TX); student designers Ethan Leng, Mihir Mongia, Charles Park, Tiffany Varughese, Andrew Wu.
Walter: A wheelchair with an alternating center of gravity designed for developing countries – Chalmers University of Technology (Sweden); student designers Christian Bremer and Erik Ohlson.
iDEA: iPad dexterity enhancement apparatus – Loyola Marymount University (CA); student designers Ed Gillman, Amy Clancy, Anne Marie Gelle, Teresa Nguyen.
Doodle Bug writing aid – California Lutheran University (CA); student designers Jane Hankins, Jennifer Black, Roxanne Chandler, Jeff Westendorf, Raven Vilardo, Brisi Favela, Jeannine Blankenship, Jessica Lopez.
Dementia Organisation Care - Conventry University (United Kingdom); student designers Simon Wilson and Kate Jackson.
Flex Array – Louisiana Tech University (LA); student designers Stratton Haywood, Sanjog KC, Keshab Sapkota, and Daniel Bankard.
All of the student design semi-finalist teams presented at the conference to the RESNA community of assistive technology professionals, rehabilitation engineers, clinicians, developers, and manufacturers. This exposure to the professional community provides many students with their entry into the field, and SDC winners have frequently moved on to become leaders in the field of assistive technology. The National Science Foundation has been a longtime sponsor of the competition, while TREAT is returning as a second-year sponsor.
"We're looking forward to hosting the Doodle Bug designer at our facility to further develop this product," said Joshua Nelson, Program Manager at TREAT. "It's the type of product that meets a real need and is very useful for people, while at the same time it's fun and friendly, and makes people smile."
"This year we had a great number of international entries with some wonderful designs, two of which were semi-finalist teams," said Maureen Linden, MS, co-chair of the RESNA Student Design Competition and a researcher at Georgia Institute of Technology. "Every year I'm amazed at the wonderfully creative and innovative designs from students."
Every student design competition submission is available on the RESNA Student Design Competition website where members of the professional community can view the designs in detail, provide feedback, ask questions, and contact the designers directly. The deadline for registering to enter the 2014 Student Design Competition is April 4, 2014.