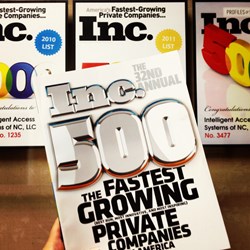 We are especially proud to be one of a select few commercial security integrators to have multiple consecutive appearances.
Raleigh, NC (PRWEB) August 23, 2013
Intelligent Access Systems today was recognized as NO. 4043 on Inc. magazine's seventh annual Inc. 500|5000, an exclusive ranking of the nation's fastest-growing private companies. The list represents the most comprehensive look at the most important segment of the economy—America's independent entrepreneurs. Intelligent Access Systems joins LivingSocial, Edible Arrangements, CDW and Lifelock, among other prominent brands featured on this year's prestigious list.
"Above all else, we are thrilled to be honored with a ranking four years in a row," said CEO Jenna Oetjen. "Making the list once was an accomplishment; sustaining the growth required to achieve a ranking four years running is incredible. We are especially proud to be one of a select few commercial security integrators to have multiple consecutive appearances." This honor is complemented by a quadruplicate appearance on the 2013 SDM Top Systems Integrator Report, where they climbed to No. 35 in the U.S. earlier this summer. "With the support of existing clients and our growing employee base, we have made some strategic moves that have us hopeful for the honor of making the grade next year as well."
This important milestone for Intelligent Access Systems comes as the company continues with another strong year in 2013. Earlier this year, the company launched new offices in Jacksonville, FL and Ft. Lauderdale, FL to better serve the company's growing list of enterprise clients. In 2013, Intelligent Access Systems also released its flagship middleware product Invarios which is aimed primarily at industrial and institutional clients. The company will continue to eye strategic opportunities for growth and expansion in the electronic security integration market over the coming years and will look to expand its presence as a super-regional security integrator.
"Not all the companies in the Inc. 500 | 5000 are in glamorous industries, but in their fields they are as famous as household name companies simply by virtue of being great at what they do. They are the hidden champions of job growth and innovation, the real muscle of the American economy," says Inc. Editor Eric Schurenberg. "Make no mistake: The Inc. 5000 was harder to get into this year than ever in history." In a stagnant economic environment, median growth rate of 2013 Inc. 500|5000 companies is an impressive 142 percent. The companies on this year's list report having created over 520,000 jobs in the past three years, and aggregate revenue among the honorees reached $241 billion.
Complete results of the Inc. 5000, including company profiles and an interactive database that can be sorted by industry, region, and other criteria, can be found at http://www.inc.com/5000 .
To learn about Intelligent Access Systems, watch our two-minute movie at http://www.iasnc.com/movie .