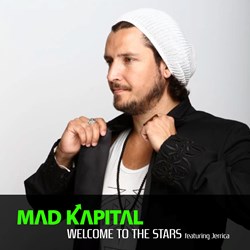 Toronto, ON (PRWEB) August 22, 2013
Chad McMillan, aka. DJ Mad Kapital ("Mad Kapital") and XOXO Entertainment Corp. ("XOXO") are stoked to announce the release of Mad Kapital's first single, "Welcome to the Stars" featuring Jerrica Santos, through Universal Music Canada, which is now available on iTunes and Amazon, among other channels.
DJ Mad Kapital is Canada's newest electronic dance music ("EDM") DJ/Producer, his alias pulling from years working in the stock markets through some of the toughest times since the great depression. While McMillan is still also active in the markets, he has since rebalanced his portfolio to include his longtime passion for EDM. Adam Hurstfield meanwhile is a longtime fixture in the Canadian music scene and President of Vancouver-based XOXO Entertainment Corp. Their first collaboration "Welcome to the Stars" is an electro-pop styled original fusing an uplifting and progressive drive accentuated by spiritual undertones and Jerrica Santos' powerful vocals.
"I've been a huge fan of EDM for well over a decade and it has long been a dream of mine to sink my teeth deeper into it," explains McMillan. "Welcome to the Stars represents my first professional production in what is hopefully just the beginning of a journey to create great music and keep rocking out."
"Mad Kapital brings a breath of fresh air to the music industry and we are thrilled to be working with him on this new project," adds Hurstfield. "With every beat and every hi-hat, you can feel his passion ooze out of everything he does."
McMillan has recently relocated east from Vancouver to Toronto where he is looking forward to playing and producing as much as he can while he grows the new Mad Kapital brand.
Follow him at http://www.madkapital.com, on Facebook, Soundcloud and Twitter to keep up with his latest releases, mixes, charts, gigs, and special events.
For further information and booking, please call 778.688.6980 or email info(at)madkapital(dot)com.
Chad McMillan
Mad Kapital
814 – 560 Front Street West
Toronto, Ontario, M5V 1C1
778.688.6980
info(at)madkapital(dot)com
http://www.madkapital.com
http://www.soundcloud.com/madkapital
http://www.facebook.com/madkapital1
http://www.twitter.com/madkapital