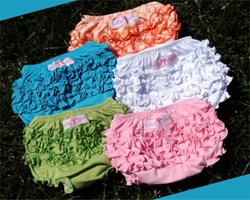 West Des Moines, IO (PRWEB) August 27, 2013
Bliss Baby & Maternity is so excited to now be carrying RuffleButts and RuggedButts. RuffleButts is a fun and frilly line of clothing for infants and toddler girls. The line has a large selection of hats, headbands, bows, legwarmers, tutus, dresses, and a variety of other fun items for girls. Rugged Butts is a line that carries hats and beanies, ties, suits, jackets, t-shirts and fun outfits for boys.
This is a great line to look at when thinking of gift giving and dressing your little one up for the holidays. The clothing items are so unique and cute. The items are great for new baby gifts, shower gifts, birthday gifts, and any other special event or for fun everyday wearing.
RuffleButts is a high quality and trendy line of infant apparel and are well known for the frilly RuffleButt Bloomers. The high quality bloomers are made of 100% cotton and are a perfect choice for holiday pictures or holiday gifts. The bloomers are available in sizes from 3 months to 2T and are machine washable. The apparel is unique and timeless and it is fun for little girls.
Also available from RuffleButts are mix and mat tops, ruffled bottom pants, hoodies, and dresses and the line continues to grow. Find a big sister t-shirt or a first birthday outfit. Tutu's that little girls love to wear for parties and dressing up. There are even rufflebutt underwear for the little one that is just going through potty training. How excited will they be to wear them!
RuffleButts have been featured on the Today show and in various magazines. The company has grown in the four years that it has been in business and a portion of the profits of the company goes to charitable organizations that focus on children.
Please be sure to visit http://www.blissbabyandmaternity.com for all the gift giving needs that you have and to purchase that much needed gift or special item for little girls and boys.