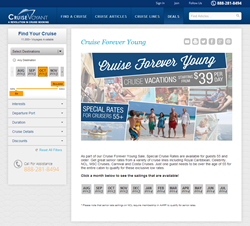 We are excited to be launching our Cruise Forever Young promotion for guests 55 and older" said Mike Monahan.
Fort Lauderdale, FL (PRWEB) August 26, 2013
South Florida based cruise travel agency, Cruise Voyant, has begun promoting the "Cruise Forever Young" campaign with specially discounted fares that start from $39 a day. As part of this CruiseVoyant.com promotion, both guests qualify for a senior rate when at least one guest is 55 or older. Website visitors can find, compare and book these special savings on select sailings on several cruise lines through the remainder of 2013.
Itineraries on major cruise lines such as Royal Caribbean International, Celebrity Cruises, NCL, Carnival and Costa Cruises are available to cruisers as part of the "Cruise Forever Young" promotion. Cruise destinations include Alaska, Bermuda, Canada and New England, Caribbean, Europe Hawaii Panama Canal and even the South Pacific.
"We are excited to be launching our Cruise Forever Young promotion for guests 55 and older" said Mike Monahan. "Cruisers can search for special discounts on Cruise Voyant's easy to navigate website and find the ideal cruise based on filters like price, destination and interest" he added.
Cruise Voyant provides consumers advanced search tools that help them browse through a large variety of cruise lines using a unique combination of criteria that can include searches for cruises by departure port, destination, price range and any combination of a dozen special interest categories. Interest categories include singles cruises, adventure cruises, family cruises, as well as food and wine cruises. CruiseVoyant.com also features informative articles and advice from cruise experts on the widest variety of cruise lines and ships.
Cruise Voyant continuously features exclusive deals and special promotions for cruises on all major cruise lines to destinations around the world. Please visit http://www.cruisevoyant.com or call 888-281-8494 for more details on the Forever Young Cruise Promotion and other outstanding cruise deals.
About Us
Cruise Voyant is a Fort Lauderdale based cruise agency that is revolutionizing the cruise booking process. Cruise Voyant solves many of today's most difficult booking issues by allowing visitors to view a historic look at how pricing has changed on a particular ship and sail date. Cruise Voyant also offers interactive cruise itinerary maps, and it provides tens of thousands of photos of ships and destinations worldwide. Cruise Voyant helps consumers easily find their dream vacation by empowering them with online advice and insights that will help them easily book and manage their vacation plans.