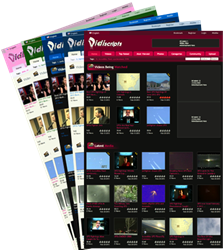 In comparison to the competition, ITX Design provides complimentary premium support services, where other companies often charge top dollar
(PRWEB) August 21, 2013
ITX Design Chief Executive Officer Doug Davis announced late Wednesday afternoon, that the popular web hosting and domain registrar would be unveiling their complete line of VidiScript hosting packages beginning at the beginning of next month. VidiScript with ITX Design is loaded with features that are only available on major media outlets such as YouTube, Meta Cafe and others. VidiScript is without question, the most powerful open source video sharing community script currently available on the web.
The VidiScript Packages Being Offered with ITX Design Include the Following Features:
Open Source (The Customer is Always In Full Control)
Loaded With Dozens of Features Not Available With Similar Scripts
Built With Specific Users In Mind By The Professionals at ITX Design
SEO Enabled - Driving traffic from all major search engines
Several Interactive Profiles & Additional Features
Powerful Administrative Management
Bundled with FlowPlayer that allows the end user to sell video ads, stream live video, etc
24/7 Customer Support from ITX Design
In comparison to the competition, ITX Design provides complimentary premium support services, where other companies often charge top dollar. With VidiScript hosting packages from ITX Design, clients can request script, extensions and template installation as well as VidiScript upgrades and backup restoration, all at no additional costs. Recently, every high end VidiScript website is striving for higher search engines ranking. The SEO specialists with ITX Design analyze the customers VidiScript content and recommends the most appropriate solution for boosting search engines ranking.
ITX Design, offers (3) unique VPS hosting packages and (4) levels of dedicated server hosting and manages the servers for their clients. This ultimately allows them to concentrate on marketing and the actual construction of the site. Clients who want the most out of their VidiScript hosting plan should choose a VPS or dedicated hosting option from ITX Design
ITX Design is an established web hosting and domain registration provider based out of Fredericksburg, Virginia providing dedicated servers, shared web hosting, and domain registration for small businesses including server hosting, WordPress hosting, reseller hosting and much more.
For more information or to speak with a qualified customer support representative, simply call 1-866-577-1442, or visit ITX Design today.