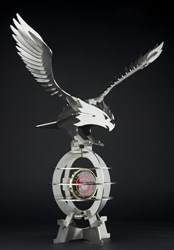 Elkhart, IN (PRWEB) August 23, 2013
Representatives with LF Steelworks announced today that it has released a new military video tribute.
"You may not have personally served, but we all know someone who has served our country, and this video is just to honor those who have put their lives on the line for us all," said LF Steelworks Chairman Alex Foris.
Foris went on to explain that his company's newly released video also features its Flight of Honor, which is a unique piece of artwork. According to Foris, the Flight of Honor Eagle weighs 8 pounds, stands a full 21 inches tall, is 12 inches deep with a 17.5 inch wingspan.
Del Littrell, the product's creator, noted that the base of the Flight of Honor can be personalized with a military branch medal that is attached to the center bar in the middle of the globe that the stainless steel Eagle sits on.
"Although the product itself is a great product, this new video was released as a way to pay tribute and honor our military," Littrell stressed, before adding, "My two sons and daughter in law are currently serving in the Armed Forces to help protect the freedom we enjoy today. For that, I thank them and those serving in all branches of the U.S. Armed Forces. It's only fitting that we all show our appreciation. This video and the Flight of Honor Eagle are perfect ways to do that."
"The Eagle represents the freedom they are fighting for," Foris said. "We want our customers to take pride and comfort every time they look at their Eagle which honors their loved one or the time that they themselves served this great country."
Foris notes they have recently customized the boxes the Eagle comes in with the name, rank and dates of services for those retiring from the military. They make a very unique gift.
About LF Steelworks:
LF Steelworks was launched by two American veterans in January 2013. The LF Steelworks Flight of Honor Eagle is a unique piece of artwork created for motorcycle enthusiasts, the military market, and makes a statement as a corporate award. All LF Steelworks products are made in the USA and are customizable. LF Steelworks finds inspiration for the design and creation of the Flight of Honor from family and friends. Avid motorcyclists and veterans of the US Armed Forces, the principal partners of LF Steelworks think there is no better way to continue to pay tribute to hobbies and heroes than with a Flight of Honor. To learn more about LF Steelworks, please visit http://www.lfsteelworks.com/.