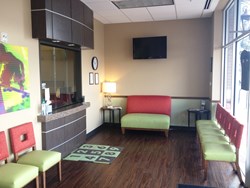 "The entire staff front-to-back is trained in Pediatrics"
Houston, TX (PRWEB) August 22, 2013
Urgent Care for Kids has provided high quality and affordable after hours care for families in the Dallas/Fort Worth area since November of 2011. With the success of those clinics, the company has been able to raise a significant amount of private capital in order to expand to the Houston area. The expansion will begin with 3 clinics opening between August and October. The clinics will be in Katy, West University and The Woodlands and proceed with 3-5 more in 2014.
Urgent Care for Kids is unique because they are staffed by all Board Certified pediatricians versus most Urgent Cares and medi-clinics who are staffed by general adult Physicians, PA's or NP's.
"The entire staff front-to-back is trained in Pediatrics, including nurses and medical assistants," Kevin Pearce, President of Urgent Care for Kids. "This makes a big difference to both parents and local pediatricians."
With the high volume of free standing ER's in the Houston area, UC4K will help to alleviate the high costs that patients are paying for the ER visit when they can easily be treated at an Urgent Care facility. For self pay patients, a typical office visit will cost only $100.00 which is substantially less than any Emergency Room. For insured patients, co-pays are usually about ¼ of the cost in comparison to ER co-pays.
As an after-hours care provider, UC4K partners with local pediatricians to be a resource for them to send their patients when they are closed.
"We have met with many of the Houston area pediatricians and they are very excited for our clinics to open. Currently they don't have a pediatric friendly after-hours option for their patients in close proximity and they are forced to send their patients to the ER or to a general urgent care." Pearce continues. "UCFK will fax a full report back to the patient's pediatrician to maintain continuity of care. The pediatricians will have a faxed report the next day when they arrive to the office."
To learn more about the expansion and services provided by Urgent Care for Kids please visit http://www.urgentcarekids.com/. If you would like to receive information about career opportunities please contact Sarah Welborn at swelborn(at)urgentcarekids(dot)com.