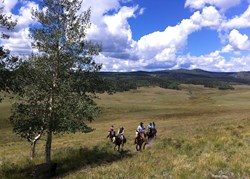 "The results are out! Congrats on being voted a top Ranch in our 2013 Signature Ranch Awards!" - Email from DudeRanch.com to Rainbow Trout Ranch
Antonito, CO (PRWEB) August 23, 2013
Rainbow Trout Ranch, a full-service dude and guest ranch in the southern Colorado Rockies, was a major contender in DudeRanch.com's 2013 Signature Ranch Awards.
This is the second year of the Signature Ranch Awards which to quote from DudeRanch.com "recognizes excellence within the Dude Ranch vacation industry. Nominations and voting occurs each summer, and winners are announced mid-August."
Rainbow Trout Ranch was voted first in the categories of Horseback Riding and also Family Dude Ranches. They were voted third in the categories of Food/Dining/Meals and Favorite Dude Ranch Hosts, and also placed in Dude Ranches for Kids/Teens as well as Fly-Fishing Dude Ranches. The ranch was the only ranch to place in all applicable categories.
"We are so honored that our guests think highly enough of us to vote," says owner Doug Van Berkum. He goes on to say that the only categories in which they didn't place were the ones that do not apply to them such as Winter Dude Ranches and Eastern Dude Ranches. Van Berkum says, "First and foremost, we are a family dude ranch, dedicated to excellent riding, fishing and a wonderful overall family experience."