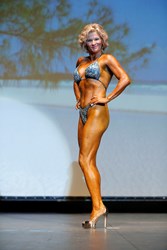 Women need to know they really can get their figures back. I'm living proof of that. The Cenegenics Elite Health Program gives women unique tools, from the right exercises that really work to customized programs for their hormonal health/specific needs.
Las Vegas, NV (PRWEB) August 22, 2013
Dr. Mickey Barber—age 58 and president of Cenegenics Carolinas—took the stage at the 2013 Excalibur Figure Competition (Charleston, SC) in excellent form, demonstrating how a Cenegenics Elite Health Program can deliver a new definition of aging with maximized health, vitality and fitness, announced Cenegenics, the global leader in the field of age management medicine. A sports/fitness enthusiast, Barber entered this year's competition with the same verve she had ten years ago, when she had just started her age management medicine program and performed in the master's figure competition, placing second.
Barber competed in the Excalibur's figure division—a subset of bodybuilding competitions—where judges look for a combination of symmetry, stage presence, body shape, muscle shape and presentation (pose, poise, grace and confidence). Participants need to represent a physically fit, athletic and symmetrical physique that can transition between varied poses smoothly and effortlessly.
"The Excalibur competition was great fun. There is no way I could have prepared for or done this competition without following a Cenegenics program. A lot has happened since I first did this show ten years ago—menopause, for one. Eating right, staying fit and keeping my hormones in balance all contributed. Without that, my muscle, skin and fitness level wouldn't have been as good as they were," Barber said.
Competing in the 35 and older category had its challenges, yet baby boomer Barber performed well and came prepared. She spent the months prior to the competition focused on strict eating—very little fruit, lots of protein (more than normal), only green vegetables, no alcohol, no carbs—and doubling her workout duration.
"Women need to know they really can get their figures back. I'm living proof of that. In my opinion, our Elite Health Program offers women some unique tools to do that, from the right exercises that really work for women to customized programs that address their specific needs and hormonal health," Barber said.
Physicians can discover the rewarding benefits of practicing age management medicine by contacting Cenegenics Director of Physician Recruitment James Powell at 702.321.9716.
Follow Cenegenics on Facebook, Twitter and get health tips, patient celebrity blogs and health news on their portal site, CenegenicsPost.
To schedule an interview with Cenegenics, please contact Ann Castro, Cenegenics Director of Media Relations: 702.953.1588.
About Michale J. (Mickey) Barber, MD
President, Cenegenics Carolinas
Dr. Mickey Barber is a board-certified anesthesiologist who earned her medical degree from The Medical University of South Carolina and completed a residency at Tulane University and a fellowship at Harvard. A prior assistant professor of Tulane University, Barber is an advocate of preventive medicine as well as recipient of several awards for her clinical performance and teaching skills. In 2006, Dr. Barber opened Cenegenics Carolinas, a center in Charleston, South Carolina, which experienced double-digit growth, including an expansion to a Charleston location in North Carolina. In November 2012, Dr. Barber was the first woman to be presented the prestigious Alan P. Mintz, MD Award for Clinical Excellence in Age Management Medicine. She also serves as medical director of Cenegenics' nonprofit Age Management Medicine Education Foundation (AMMEF) medical library, medical editor of the Cenegenics Pharmacy Newsletter and physician advisor for Cenegenics Living Online, an Internet-based application for patients.
About Cenegenics
Cenegenics® has forged a paradigm shift in medicine with its Elite Health Program, developing a proactive medical approach for maximized health, vitality and wellness, hailed as "next generation medicine" and garnering worldwide media attention. Cenegenics has 22 centers with others opening in the near future: Las Vegas, Nevada (headquarters/2 centers); Charleston, SC; Boca Raton, FL; Dallas, TX; Arlington, TX; Atlanta, GA; Chicago, IL; Beverly Hills, CA; Philadelphia, PA; Washington, DC; New York City, NY; Tulsa, OK; Jacksonville, FL; Atlantic City, NJ; Houston, TX; Denver, CO; Scottsdale, AZ; Boston, MA; Miami,FL; Charlotte, NC; San Juan, Puerto Rico; San Francisco, CA. Cenegenics serves over 25,000 patients globally—2,500 are physicians and their families.
###